PSP-PDA PSP
From GameBrew
PSP-PDA
General
Author
Rob_psp, Zx-81
Last Updated
2008/05/09
Type
Utilities
Version
1.3.2
License
Mixed
Links
Download
Website
PSP-PDA is a PDA program with numerous useful applications such as notepad, music player, image viewer, address book, calendar, calculator and clock-alarm.
Originally written by Rob_psp and updated by Ludovic Jacomme (aka Zx-81).
User guide
Menu options:
New text.
Open files (compatible for each application).
Burn or open files.
USB connection.
Address Book.
Calculator.
Calendar.
Clock, alarm and stopwatch.
Applications (shows main screen).
Exit (save and exit).
Music player:
Open playlist.
Stop playback.
Plays next song.
Settings:
Keyboard Settings.
Font Size.
Text Color: Sets the background color.
Custom Themes (icons, view, screen, etc) .
Return to default.
Virtual keyboard:
You can uses IR-keyboard and edit the file pspirkeyb.ini according to your IR keyboard model.
Controls
D-Pad - Navigate through the applications
Cross - Select application
Start - Open Main Menu
IR-keyboard:
Cross - CTRL-X
Square - CTRL-S
Circle - CTRL-F
Triangle - CTRL-E
Start - CTRL-W, Tab
Select - CTRL-Q, Escape
L - CTRL-Z
R - CTRL-R
D-Pad - Arrows
In the notepad application, you can use arrows to move on the text, but you have to press Escape key (or CTRL-Q) to return to edit mode.
Screenshots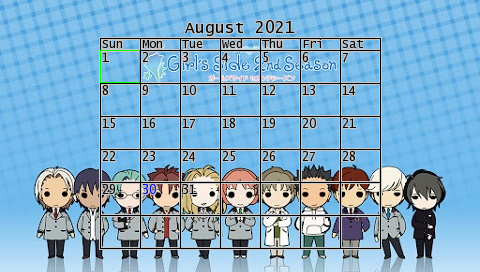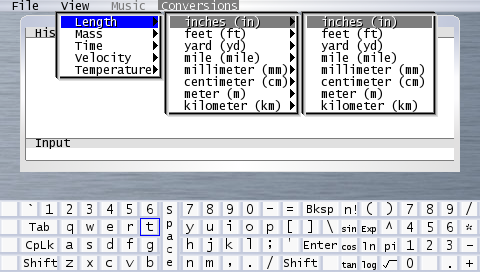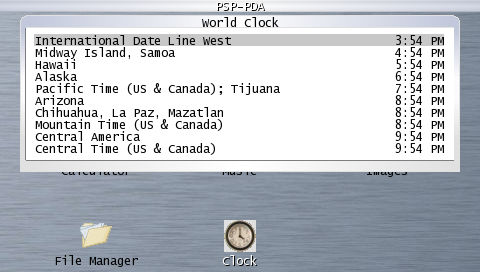 Changelog
v1.3.2 (by zx-81)
Work now with fw3x.
IR keyboard works now with fw >= 3.80.
v1.3.1 (by zx-81)
Improve IR-keyboard handler.
Bug fix in theme chooser (but you need now to restart psp-pda to view the new theme).
Many bug fix in calendar.
New theme designed by Vashts121.
v1.3 (by zx-81)
v1.x
Previous releases from Rob_psp.
External links