PROHIBITION
From GameBrew
PROHIBITION
General
Author
Kukulcan, Space1
Last Updated
2006/08/24
Type
Arcade Games
Version
24082006
License
Mixed
Links
Download
Website
PROHIBITION is a remake of Prohibition created by Infogrames in 1987 for the Amstrad CPC computer. The game is in English and French with a help access in the game menu.
It was submitted for the NEO Summer Coding Compo 2006.
Features
Game mode with story and boss level.
Choose between stylus or buttons.
Ranking.
English or French according to setting.
User guide
In game mode, you start the game with 3 lives. You must kill gangsters before they kill you.
At level 1, you only need 1 bullet to kill gangsters.
To go to the next level, you must kill 50 gangsters and finish the boss level without losing.
Controls
You can play with D-Pad or the Stylus.
Stylus - Tap to fire
D-Pad - Move the peephole
L - Protect yourself/hide behind wall (Game mode only)
Start - Pause
R - Music on/off
Screenshots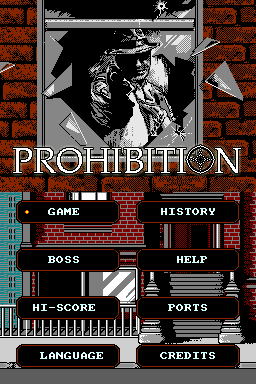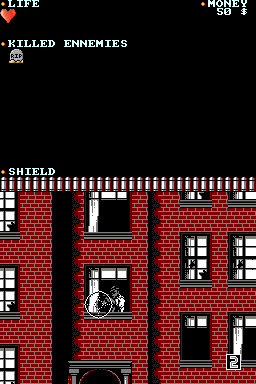 Compatibility
Works on NDSTT/Top Toy DS (firmware 1.15).
Changelog
2006/08/24
Some new corrections made by Kukulcan.
2006/08/23
Improvment of sounds but far from perfect (little problem with the volume).
2006/08/17
External links