PA Sudoku
From GameBrew
PA Sudoku
General
Author
PBone
Last Updated
2006/03/21
Type
Puzzle
Version
1.3
License
Mixed
Links
Download
Website
Source
PA Sudoku is a Sudoku clone for the NDS. It is made with PAlib.
Features
101 Sudoku puzzles spread over 3 difficulty settings.
Mod music + options for enabling/disabling.
Both stylus and pad input.
Saves best time for each puzzle to SRAM.
Can save a single game to SRAM.
Fully playable with either Stylus or Pad/Buttons.
Random puzzle generation for each difficulty.
User guide
Reload the game from options in the main screen to resume playing your saved game.
Manual hint settings for each tile in the puzzle grid. Number hints are shown as orange dots in each grid tile. Status grid on top screen show correctly filled columns/rows/groups. By setting pin, when pin grid is active:
Yellow pins - Possibles.
Red pins - Impossibles.
Green pins - Actual number.
Controls
Stylus and Pad input are both available.
B - Back to previous screen
A/Start - Activate selected menu items
Left/Right - Change values in puzzle difficulty/index
L/R - Switch active grid that receives button input (active grid has a bright red cursor)
D-Pad - Move cursor
A - Set pin (when pin grid is active)
Screenshots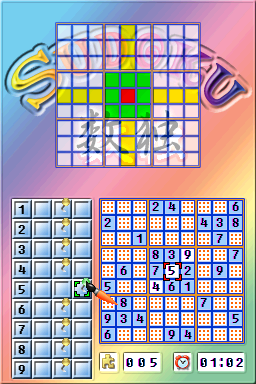 Compatibility
Tested on hardware (M3 SD, E-15, FlashMe V5) with the ds.gba file (.nds doesn't work on M3).
Works on DeSmuME (except music).
Known issues
Slight warning: automatically creates a default time in SRAM for all puzzles. Be careful with Wifi-me/wmb and GBA flash cartridges, if you don't want your saves to be erased.
Changelog
1.3
Replaced puzzle generation, with code by Gruffy_G.
GUI update.
1.2
Puzzle generation, small bug fix.
Active row/column/region status, added to the top grid.
1.1
GUI update.
Puzzle generation added.
External links