OpenLara GBA
From GameBrew
OpenLara GBA
General
Author
XProger
Last Updated
2022/05/03
Type
Action
Version
alpha
License
BSD-2-Clause
Links
Download
Website
Source
OpenLara is an open-source engine re-implementation of the classic action adventure game Tomb Raider released in 1996. It is available for a number of platforms, including the 3DO, Raspberry Pi, Xbox, 3DS and more.
The project is inspired by OpenTomb, another open-source project aiming for a cross-platform re-implementation of Tomb Raider 1 - 5 engines.
The GBA version currently offers 3 levels of the game and excludes original FMV sequences.
User guide
In case the game doesn't work correctly, enable VSync in the Graphics settings, or try this version for slow flash carts.
Controls
D-Pad - Move
A - Action, Fire
B - Jump
R - Walk, Side steps
L+R - Look
L+A - Weapons
L+B - Roll
Select - Inventory
Start - Free camera mode
Screenshots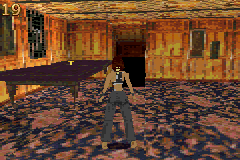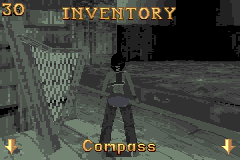 Media
OpenLara - Game Boy Advance (alpha) (Timur Gagiev)

Tomb Raider on the Nintendo Game Boy Advance is incredible | MVG (Modern Vintage Gamer)

External links