Omalone
From GameBrew
Omalone
General
Author
Omalone Team
Last Updated
2012/06/01
Type
Board
Version
2.3
License
Mixed
Links
Download
Website
Omalone (or DSOmalone) is a remake of the board game Abalone for the Nintendo DS. It is made with PAlib.
Features
Stunning graphics and sounds.
1-player game against the NDS.
2-player game on the same NDS.
2-player game online, through wifi connection.
Up to 8 characters providing 8 different environments and different challenges.
Integration of omalone's statistics in WFCstatus software.
Windows version also available.
User guide
How to play
There are 2 colors, 14 balls each, on the game area.
Your goal is to push opposing balls off the edge of the board.
When its your turn, you can move 1, 2 or 3 of your balls at the same time:

You can push opposing balls when you have numerical superiority in a line.
No move possible when no numerical superiority.
No more than a group of 2 opposing balls can be pushed.
All directions are available, strafe too.
Tips
Beat MrDario, and you'll unlock Vector.
Beat Vector and you'll unlock Heel Mode.
Try the famous Konami's code while selecting tables and you'll see...
Controls
Stylus - Move chips
Screenshots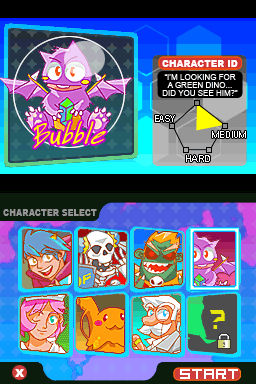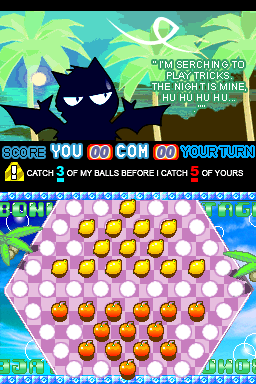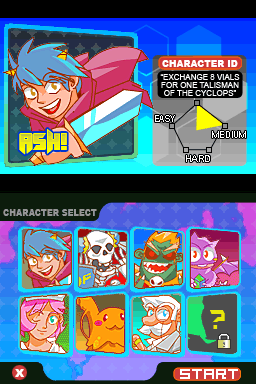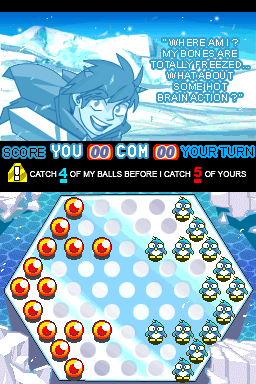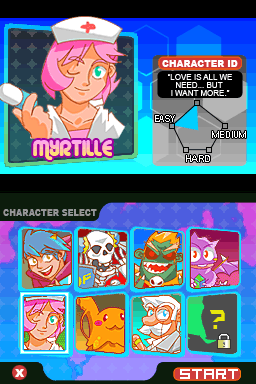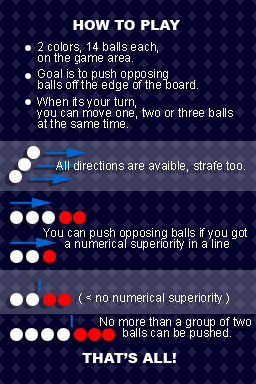 Credits
Alx, Mvx, FA, DMA-SC, the NDSLib team and especially Dovoto, Mollusk.
All the community of DS homebrew dev.
External links