OTPHelper 3DS
From GameBrew
OTPHelper
General
Author
d0k3
Last Updated
2016/06/14
Type
System Tools
Version
0.90
License
Mixed
Links
Download
Website
Source
| | |
| --- | --- |
| | This application has been obsoleted by one or more applications that serve the same purpose, but are more stable or maintained. |
OTPHelper is small tool for the 3DS console, for helping with the downgrade and OTP dumping process.
Note: This tool is deprecated. The way to go for A9LH installations now is CTRNAND transfer (O3DS) or OTPless install (N3DS). Always refer to Plailect's guide.
Features
Actual dumping of the OTP.bin (0x100 or 0x108, only on FW < 3.0) included for convenience. Not shown in the screenshots, this is in the ARM9.bin.
Generate OTP0x108.bin from OTP.bin (on FW 9.0+), if you forgot getting that file the first time around.
Unbricking the FW 2.1 EmuNAND (N3DS only). This does, in one step, what would otherwise require: two NAND XORpads, the emuNAND_bricked.bin backup on your PC, 3DSFAT16Tool, hex-editing the header of the emuNAND_bricked.bin and writing back the fixed emuNAND_bricked.bin backup via Decrypt9WIP. So, much faster.
Includes EmuNAND/SysNAND Backup & Restore, CTRNAND Dump & Inject, FIRM Dump & Inject and Padgen features from Decrypt9WIP for convenience.
Multiple safety clamps in place to make this as safe as possible.
Various options to restore your SysNAND to working order in case something goes wrong.
Screenshots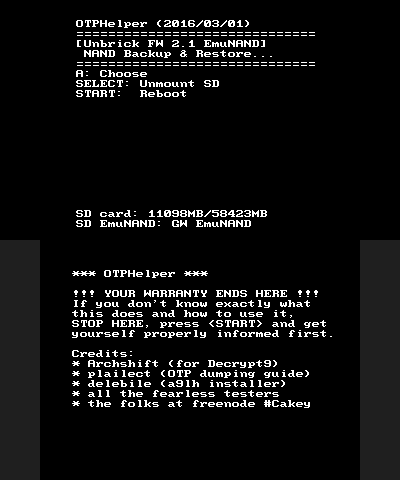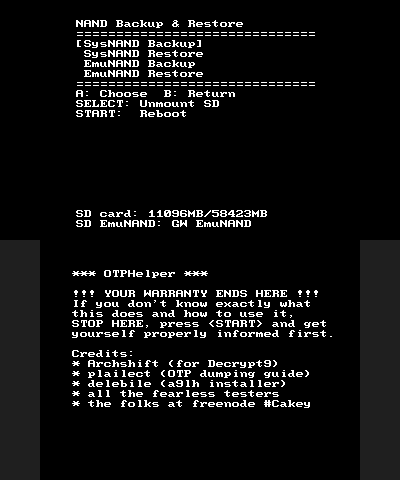 Changelog
0.90
Removed SysNAND partition dumping/injecting.
Removed unneeded/duplicate 2.1 Unbricker Feature.
Credits
Thank these fearless people:
Damian666 and Apache Thunder for testing and verifying EmuNAND unbricking.
dark_samus3, Skaterdie, piratesephiroth and Swiftloke for testing and verifying OTP.bin dumping.
liomajor and tivu100 for helping ironing out some quirks.
al3x_10m (O3DS) for testing the One Click Setup feature.
al3x_10m, Supster131 and Wolfvak for tons of help testing the downgrade checker.
External links