Notepad3DS
From GameBrew
Notepad3ds
General
Author
RMcTn
Last Updated
2017/12/06
Type
Other Apps
Version
1.1.2
License
Mixed
Links
Download
Website
Source
Notepad3DS is a text editor for the Nintendo 3DS.
Features
File opening/saving.
Search for terms in a file (will only find the first occurence)
Jump to beginning/end of a file.
Installation
Available in 3DSX and CIA formats.
CIA - Install the .cia with the CIA manager of your choice.
3DSX - Use the .3dsx provided with the Homebrew Launcher.
User guide
Notepad
Text inputs are displayed on the top screen and instructions are on the bottom screen of the 3DS.
The bottom screen is also used to show information about the file and some error messages, such as file opening failure.
Each line can hold a maximum of 1024 characters when edited.
If a line with more than 1024 characters is edited, it will be truncated with no way of undoing this.
Save files
The 3DSX build will save/open files the /3ds/ directory. Prefix ../ to your filename to access the root folder.
The CIA build will save/open files from the root / directory. You can access files in other directories from here, e.g. 3ds/files/example.txt.
Note: Notepad3DS can access directories but cannot create them. Saving a file to a non existing directory will not save the file correctly.
Controls
A - Select the current line
B - Start a new file (with confirmation)
X - Save current file
Y - Open a new file
R - Search for a term in the file
D-Pad/C-Pad - Movement up/down
L - Hold with movement to jump to beginning/end
Screenshots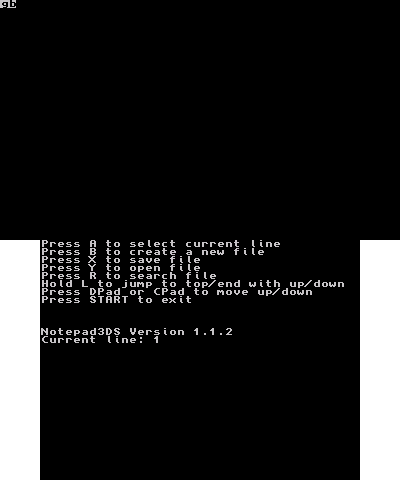 Changelog
v1.1.2
Lines are no longer restricted to a max length of 60 characters. Increased to 1024 to match with notepad's line limit.
Lines are no longer redrawn when pressing down at the end of file.
Fixed program crashing when adding lines around 26/27 to a new file.
v1.1
Should be no more restrictions on the software keyboard (such as limited to 2 digits, or @ symbol being blocked).
External links