Nintendo Adventure Books: Monster Mix-Up DS
From GameBrew
Nintendo Adventure Books: Monster Mix-Up DS
General
Author
Multiple:Option
Last Updated
2009/08/24
Type
Adventure
Version
20090824
License
Mixed
Links
Download
Website
Nintendo Adventure Books: Monster Mix-Up is a digital version of the gamebook of the same name written by Bill McCoy and published by Archway Paperbacks in 1991.
It was an entry into the openXile Craptastic Coding Competition 2009.
User guide
It is best described by the book's introduction:
"Dear Game Player: You are about to guide me through a great adventure. As you read this book, you will help me decide where to go and what to do. Whether I succeed or fail is up to you. At the end of every chapter, you will make choices that determine what happens next. Special puzzles will help you decide what I should do—if you can solve them. The chapters in this book are in a special order. Sometimes you must go backward in order to go forward, if you know what I mean. [...] Good Luck! Driplessly yours, Mario."
Hold DS book-style, tap the screen to go to the next page, or select an option.
Controls
Stylus only.
DS Motion (if available) - Tilt left to go to the next page
Screenshots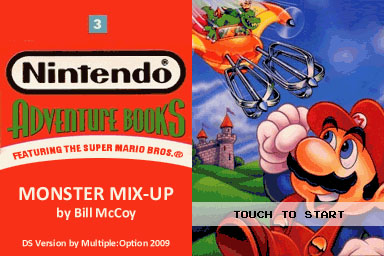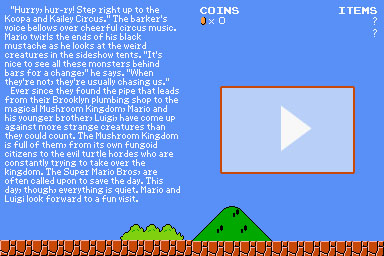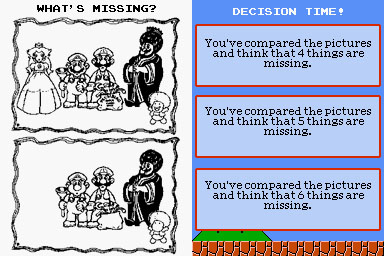 Compatibility
Requires a Nintendo DS/Lite/DSi and a flash cart.
Tested on R4 Revolution and R6 Gold. Runs in No$GBA, though can't rotate the screen.
Changelog
20090824
Credits
Thanks:
External links