NdéS
From GameBrew
NdéS
General
Author
coincoin
Last Updated
2009/07/14
Type
Other Apps
Version
2.0
License
Mixed
Links
Download
Website
Source
NdeS is a virtual dice for the NDS.
User guide
The probability of hitting a number is completely random. Convenient for travel by car or other transportation (avoids throwing a dice anywhere).
Controls
Stylus - Roll the dice/part, Start timer
Menu - Start
A - Pause timer (4 second restart)
Screenshots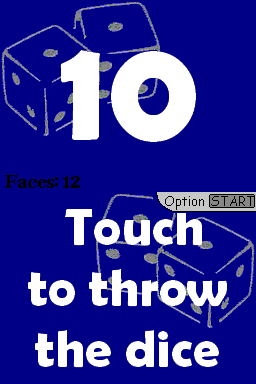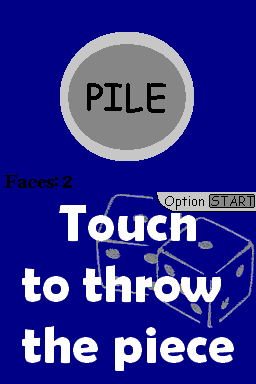 Changelog
V2.0
d4 and d10 and timer (stopwatch).
Change design.
V.1.1
Menu (to choose the number of sides) = Start.
8, 12, 20 faces.
Coin: Heads or Tails.
V.1.0
External links