Navy Wars
From GameBrew
Navy Wars
General
Author
NightFox
Last Updated
2011/02/13
Type
Board
Version
20110213
License
Mixed
Links
Download
Website
Navy Wars is a game based on the classic sink the fleet for your Nintendo DS. It is the first game to be fully programmed using the team's own libraries, NightFox's Lib.
It was awarded third prize at the Scenery Beta 2009.
Installation
Download and extract file.
Copy it to the root directory of the card.
Note: This games uses NitroFS file system, if flashcard don't supports Argv, run it through Homebrew Menu.
User guide
The objective of the game is to sink all the enemy ships before your opponent sinks yours.
Game rule is one shot per turn, with no option to continue shooting if you hit the mark. Each player has a total of 6 ships, 1 of 4 squares, 2 of 3 squares and 3 of 2 squares. Once all your ships have been placed on the board, in the position and direction you want, the game begins.
To shoot, touch the box where you think an enemy ship is hiding. If you miss, you will see the shot into the water; if you are right, you will see the corresponding explosion. The enemy ship will not be fully visible until it is destroyed (sunk).
Controls
Menu:
Stylus or D-Pad - Choose option
A - Confirm option
Deployment:
Stylus - Place the ships on the board
L/R - Change type of ships
D-Pad or A/B/X/Y - Move the stage
Battle:
Stylus - Shoot
D-Pad or A/B/X/Y - Move across the stage
L/R - Move the top screen stage (where your army is placed)
Select - Surrender and go back to main menu
Screenshots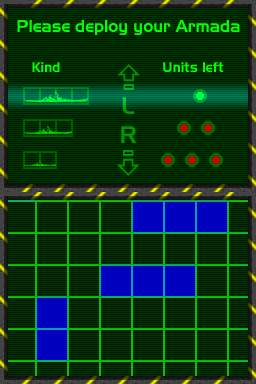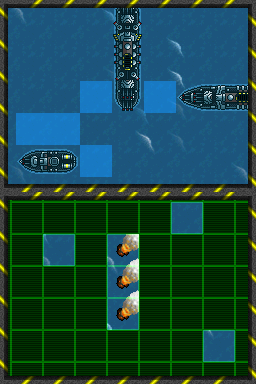 Media
NDS Navy Wars GamePlay (Cesar Rincon Nadal)

Compatibility
Can play on DS emulator, like No$gba.
External links