NDS WinS
From GameBrew
NDS WinS
General
Author
LiraNuna, Papero and Francesco.
Last Updated
2006/01/07
Type
Operating systems
Version
Compo
License
Mixed
Links
Download
Website
NDS WinS is an API for the Nintendo Dual Screen. This is a port of the famous GBA WinS first coded by Francesco Napolitano. However NDS WinS is NOT a direct port of GBA WinS.
It simulates Windows in our nds. The application includes several programs, including games like Minesweeper find and very typical of Windows programs such as calculator, organizer.
Previous version WinDS was an entry into the NEO Flash Competition 2005 and ranked 5th.
Features
100% Touch Screen Integration:

Drag-able and Resize-able Windows.
On-Screen Kb (virtual Keyboard) for easy text editing.
Clickable Buttons and other Controls.

Cool new Application Launching system and Icons.
On-Screen Real-Time-Clock.
Can hold ANY GBA WinS application.
User guide
The applications at this stage built in and must be pre-compiled with the NDS WinS and WGL (WinS Graphic Library) libraries.
Kicker - An application that will allow us to launch our homebrews.
Ztiles - Classic board game.
WinSweeper - The famous minesweeper.
Color Demo - Demo application in various colors
Cippotto - An application that consists of three classic games: Tetris, Pong and Brix.
Organizer - This is a calendar that we can jot down notes.
TipMe - A calculator.
MyWinS - Is an application that emulates My Computer.
MEDS - A writing system.
Dsudoku - The popular game of Sudoku.
Settings are also available where you can change some aspects of how to set configuration mode timeout, the theme color, etc.
Controls
Control everything with stylus.
Screenshots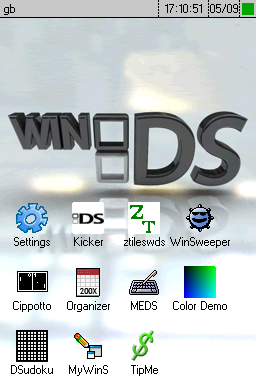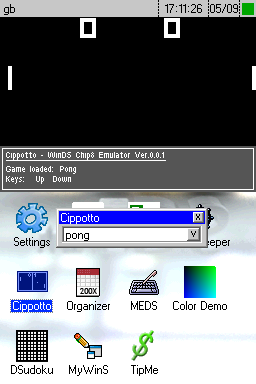 Compatibility
Tested on:
R4 Pro (firmware 1.51)
SuperCard DSONEi (firmware 3.0)
iPlayer (OS 1.2 firmware 1.0.6)
M3 Real (M3 Sakura firmware 1.41 and 4.6 Beta)
R4 SDHC (firmware 1.26)
M3 DS Simply (firmware 1.14)

Credits
Francesco Napolitano for creating the original GBA WinS.
Chétic for great help in beta testing.
External links