NDSOcarina
From GameBrew
NDS Ocarina
General
Author
danielps
Last Updated
2010/08/31
Type
Music Apps
Version
0.3
License
Mixed
Links
Download
Website
Source
NDS Ocarina is a 4-hole ocarina for Nintendo DS. An ocarina is a an ancient wind instrument, it was used in the game The Legend of Zelda. It is in English and Spanish.
It was submitted to the Scenery Beta 2010.
User guide
It has a simple menu to access with three options:
Sensitivity - Change the sensitivity manually. The higher, the stronger will be blown.
Sensitivity Auto - Automatically adjusts the sensitivity (not recommended with noisy surroundings).
Help - Gives a short introduction.
There are several modes selectable, each mode has different notes to play different songs:
Zeldarian.
Ionian (Ionian mode).
Dorian (Dorian).
Phrygian (Phrygian mode).
Lydian (Lydian).
Mixolydian (Mixolydian mode).
Aeolian (Aeolian mode).
Locrian (Locrian mode).
Controls
Stylus - Access menu, Switch modes
Left - Plug the hole at the bottom left
A - Plug the hole at the bottom right
L - Plug the hole on the top left
R - Plug the hole on the top right
Screenshots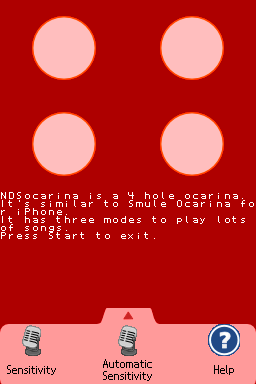 Compatibility
Tested on FlashCard itouch2 with Firmware 3.8c.
External links