Multi View
From GameBrew
Multi View
General
Author
ThatOtherPerson
Last Updated
2011/11/17
Type
Platform
Version
1.0
License
Mixed
Links
Download
Website
Multi View is a 3D first person platformer on the NDS.
This homebrew was an entry for the Nintendomax DS Competition 2010 (in the 4th place).
User guide
Make your way through a world of cubes. Why cubes? Because it is a world full of cubes, sqaure platforms which are all in 3D.
Both screens are used to display the same game world, however the white cubes (that you must avoid) are only visible on the top screen, and the black cubes (that you must collect) are only visible on the bottom screen.
This means that you need to pay attention to both screens simultaneously as you play.
Score goes up when you find the black cubes.
Controls
Stylus - Rotate
D-Pad - Move
A - Jump
Screenshots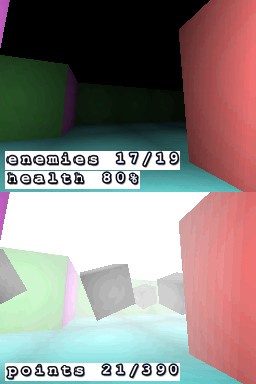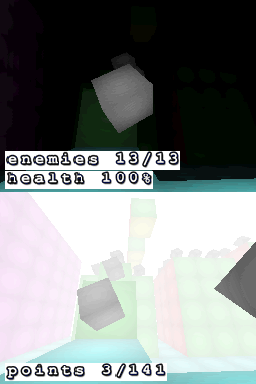 Compatibility
Tested on R4iSDHC (firmware 2.7e).
Changelog
Version 1.0
Added screen menu/title.
In this new version have three levels (one of which is generated at random).
Added "Start" to return to the menu.
Improved collision system.
Added controls on the touch screen to spin (though the game is still intended to play with the buttons).
Added some small improvements.
External links