MultiTasKing PSP
From GameBrew
MultiTasKing
General
Author
carlosgs
Last Updated
2011/01/16
Type
Operating systems
Version
301
License
Mixed
Links
Download
Website
MultiTasKing is an application of which you can manage multiple processes simultaneously with an interface that is reminiscent of the Windows Operating System. The application is available in both Spanish and English. It is programmed in C using OSlib MOD 1.0.1 and the source code is made available along with the latest release.
This was one of the contest entries for the Scenery Beta 2010 (PSP Applications, 2nd place).
User guide
Utilities
File Explorer - Allows you to browse the contents of the card, and comes with all the listed features below.
Image viewer - Supports JPEG, PNG and GIF. Able to enlarge images and rotate. It can open images of more than 512x512pix in size correctly.
Music Player - Supports MP3 and WAV. Shows the song data (CD cover image if any, artist, album, track, etc).
Text file reader - Allows you to adjust the alignment (left, center, right).
USB connection - Activate PSP's USB connection with the computer.
Online features
DownPSP-mini - MultiTasKing has a new version of downPSP incorporated, it allows you to download homebrew from psp.scenebeta.com (Spanish).
Geolocator - When you run it, it connects to the Internet and shows your approximate location (country and city) and your corresponding flag on a map.
Others
Wallpaper selector - You can choose from a large number of free-use wallpapers.
SceneryBeta 2010 Presentation - Shows the introductory video of SceneryBeta 2010, made by Loopin.
Credits - Shows the acknowledgments, beta testers, and resources used to create MultiTasKing.
Notes from developer:
If you do not use HEN and the system language of the PSP is not Spanish, the program will start in English.
If you do use HEN, in order to use it in English you must delete the EBOOT from the path ms0:/PSP/GAME/MultiTasKingv301/EBOOT and rename the EBOOT_En to EBOOT (the one on the same path).
Controls
Analog - Move the cursor or mouse
Cross - Select item, OK, Pause, Play song (music player)
Circle - Go back, Upload a folder, Cancel
D-Pad Up/Down - Scroll through a list/text box, Zoom (image viewer)
D-Pad Right/Left - Fast forward/backward, Rotate image (image viewer)
R+Cross - Drag window from anywhere (not just from the bar)
Square - Change alignment in text file reader (left, center, right)
Select - Holding to take a screenshot (will then be displayed in image viewer)
Screenshots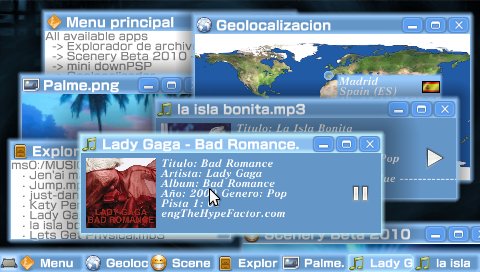 Media
MultiTasKing Mouse SIO PSP (David Nunez Aguilera)

Known issues
The program sometimes hangs when scrolling through the menus or text boxes.
DownPSP - mini application is in its early stage and installation fails sometimes after you have downloaded the homebrew.
Changelog
v301
The English language has been included.
Source code has been released.
External links