MoonCalc
From GameBrew
File:Mooncalcds.jpg A Calculator on the NDS. It is available in English and Japanese.
Installation
Download and extract file.
Copy the folder /mooncalc/ to the root of the MicroSD.
User guide
It does not allow Decimal input.
To use the language patch, replace the file MoonCalc.nds. The path to the language.set has been redirected to mooncalc folder.
Controls
Control with Stylus.
Screenshots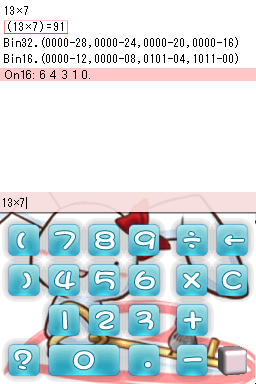 Changelog
Version 0.1 beta 2011/02/16
Pretty much all published.
Credits
The audio data:「b_021/ji_017/lo_029/b_069/b_005/b_015/b_058/b_067/b_006/b_019/b_043/b_044/b_062/b_008/b_001/lo_002」from 音楽制作・WEB制作のゼロワンアース.
The background image: Icon Ribbon 114 from アイコン屋めがぴこ.
External links