Minicraft DS Edition
From GameBrew
Minicraft DS Edition
General
Author
ArthurCose
Last Updated
2020/08/26
Type
Simulation
Version
1.0.0-beta.2
Links
Download
Website
Source
Minicraft DS Edition is a fan port of Minicraft for the Nintendo DS.
It a 2D top-down action game originally designed and programmed by Markus Persson, the creator of Minecraft, for a Ludum Dare, a 48-hour game programming competition in 2011.
Features
Loading screen.
Separate button used for interacting with furniture.
New level map on the bottom screen.
Inventory changes:

Selecting an item in the inventory doesn't move it to the top.
Move button for moving items in inventory.
Opening the inventory doesn't place the cursor at the top.
Cursor is placed on the active item instead.
Item wheel and cycle with L/R.

Active item name moved to the bottom screen.
Lighting is lower resolution (1/3).
User guide
Similar to Minecraft, you roam an infinite world and must find resources, fight enemies, and build a home.
The goal of the game is to kill the Air Wizard, the boss of the game.
Screenshots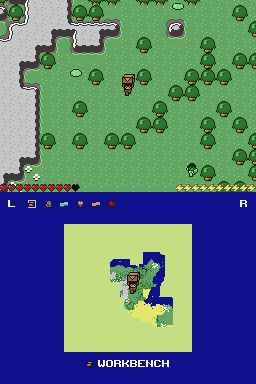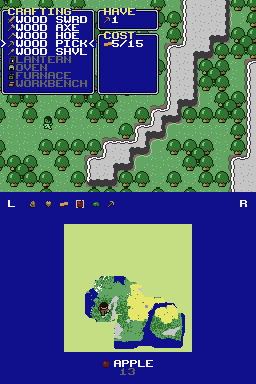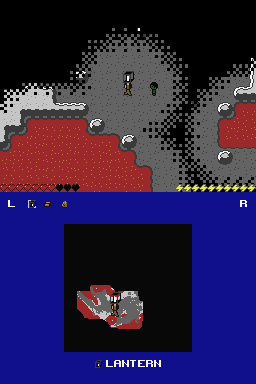 Changelog
v1.0.0 beta-2
Fixed LightMask's mismatched color.
Removed blank subtitles.
v1.0.0-beta
External links