MineSweeper - moonlight
From GameBrew - a wiki dedicated to Video Game Homebrew.
MineSweeper
General
Author
moonlight
Last Updated
2011/03/20
Type
Puzzle
Version
20 March 2011
License
Mixed
Links
[0.1 and English patch Download]
Website

MineSweeper is a DS homebrew puzzle game.
Installation
Download and extract file.
Copy .nds file and folder /MSweeper/ to the root directory of the card.
To install language patch, replace the file MSweeper.nds. The path to the language.set has been redirected to /MSweeper/ folder.
User guide
The objective is to discover all the cells that do not contain mines.
The location of the mines can be found by a process of logic.
Select a cell on the game board will reveal what is hidden underneath the chosen cell or cells (a large number of blank cells may be revealed in one go if they are adjacent to each other).
Some cells are blank but some contain numbers (1 to 8), each number being the number of mines adjacent to the uncovered cell.
Controls
Key+Stylus - Open cell
Stylus - Flag cell
X/Y - Zoom in/out
Start - Give up
Start+Select - Boot /moonshl2/reload.dat
Screenshots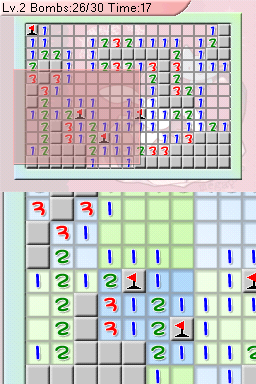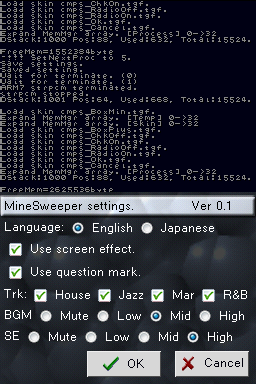 Credits
Music - b_070, b_005, lo_037, lo_007, lo_008, lo_009, lo_010, lo_044, lo_013, lo_014, lo_040, b_052, b_070, b_015, b_062, b_044, b_013, b_018, b_041, b_021, b_069, b_018, b_019, b_058, b_006 from 音楽制作・WEB制作のゼロワンアース.
Background - アイコン No122 うさ猫ビターチョコ from アイコン屋めがぴこ.
External links