Miiverse Custom Image Tool 3DS
From GameBrew
Miiverse Custom Image Tool
General
Author
PF2M
Last Updated
2016/02/19
Type
Other Apps
Version
1.3
License
Mixed
Links
Download
Website
| | |
| --- | --- |
| | This application has been obsoleted by one or more applications that serve the same purpose, but are more stable or maintained. |
Miiverse Custom Image Tool (MCIT) is a homebrew application for the Nintendo 3DS. It is a custon CIA that spoofs the Unique ID of a game and draws an image from the 3DS SD card using lua, allowing for custom images to be posted on Miiverse communities.
Miiverse was a social network for Nintendo 3DS and Wii U, created by Nintendo System Development and Hatena, and powered by the Nintendo Network. Integrated into many games, Miiverse allowed players to interact and share their experiences by way of handwritten messages or drawings, text, screenshots, and sometimes game videos in dedicated communities.
The service was discontinued in 2017 and the homebrew no longer works.
Installation
Note: You risk being banned using this application. It is a guarantee your posts will get deleted, and your other posts might get deleted, also, since admins crawl your account after post deletions. This can lead to a temporary ban. If you over-do this, a permaban, a comment restriction, and a console ban is possible. You will get a console ban after doing this ~30 times. Using MCIT also overwrites the game you are spoofing.
In order to install and run this application, the following will be required:
A 3DS with firmware 9.2 or below.
Custom firmware (CFW) that is capable of running CIAs, like rxTools, Gateway, Pasta, etc.
A CIA package installer such as FBI or DevMenu.
A 3DS-compatible SD card that's at least 2GB.
Images formatted for MCIT on your SD card (see below).
An account on Miiverse that can post.
A CIA or unique ID of the game of the community to post to.
Image format:
Create a folder named images on your SD card.
Put all your PNG images in there, and number them in the order you'd like to show them (1.png, 2.png, 3.png, etc).
Make sure they're resized to 400x240, or 320x240 for the bottom screen.
If you're using v1.1, use image.png for the image you'd like to show).
A kit was included which you can use to build your own CIA for it. Tutorial:
Once you have them ready, install the modified CIA.
User guide
Once you run the homebrew application, you should be automatically thrown into the Home Menu.
Open Miiverse then post your custom image, or add it to your screenshot album.
If you have any more images to post, reopen the application, and it will do the same with 2.png, 3.png, and etc. until it runs out of images.
When all images are cycled through, the application will automatically close.
Screenshots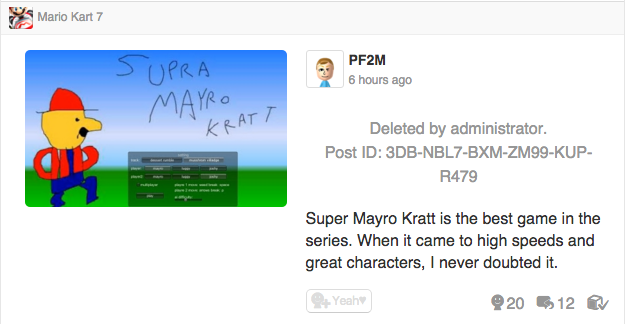 Media
[3DS] How To Post Custom/Hacked Images On Miiverse (DarkFlare)

Credit
External links