MidiControl
From GameBrew
Midi Control DS
General
Author
Benji7905 (Ben_j)
Last Updated
2011/06/01
Type
Music Apps
Version
2
License
Mixed
Links
Download
Website
Midi Control DS is a kaoss clone. DSMidi Wifi server is required to use it.
Features
4 modes: X/Y, Pads, Mixer, Sliders.
MIDI Sync with the DAW.
MIDI feedback from the DAW.
Every CC parameters are configurable.
CC state saving.
User guide
X/Y touchscreen controller mode:
Sends 3 CCs: X position, Y position, Z (127 if pressed, 0 if released).
4 banks.
Loop recording (only if MIDI Sync is active).
Pads mode:
12 transposable pads.
Velocity (hit the center = greater velocity).
Note repeat (only if MIDI Sync is active).
Mixer mode:
8 slider controllers.
8 mute buttons.
Sliders mode:
16 sliders with customizable color.
3 banks.
Screenshots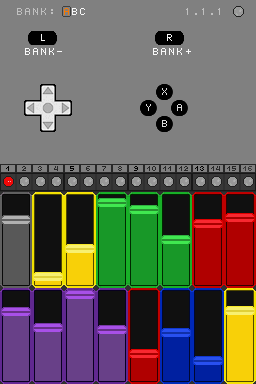 Media
MIDIPad DS demo (SBRK)

External links