Micro Zig-Zag Racer PSP
From GameBrew
Micro Zig-Zag Racer
General
Author
Boujack
Last Updated
2011/05/21
Type
Racing
Version
beta 0.95
License
Mixed
Links
Download
Website
Micro Zig-Zag Racer is a recreation of the 2D car racing game Road Fighter, released back in 1984 on NES.
It has been entered to the PSP Genesis Competition 2011.
Installation
Unzip archive then copy it to ms0:/PSP/GAME/.
User guide
You will drive a car on various maps in attempt to complete all 3 levels.
But do not think it is simple, you have to dodge the other cars which you will be sharing the road with.
You have to drive carefully as you only have one life.
This game consists of various transition effects, SaveData that allows you to save anytime during the game and a list where the Top 10 HighScore are stored.
Controls
Menu:
D-Pad - Navigate
Cross - Accept
In game:
D-Pad - Drive Car
Cross - Accelerate
Square - Brake
Start - Pause menu
Screenshots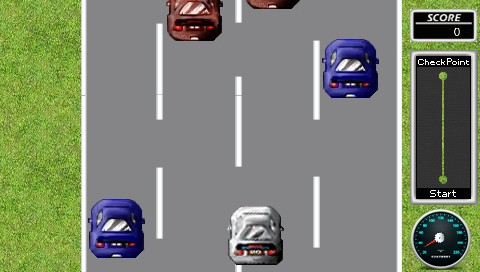 Credits
Code - Boujack.
Graphics - Miikka Poikela, Boujack.
Music/SFX - Jorrith Schaap.
BetaTester - Chimecho, Mabz, CamMaker, Sting18, Deviante, Rubito, Chus.
LuaDev Author - Deviante.
External links