MicroPhoto GBA
From GameBrew
MicroPhoto
General
Author
Leonard
Last Updated
2005/11/03
Type
Utilities
Version
1.0
License
Mixed
Links
Download
Website
MicroPhoto is a picture viewer for the Game Boy Advance. You can put up to 700 high quality pictures on a 32Mbytes card.
Installation
MicroPhoto is composed of a Gameboy Advance viewer and a Windows photo album builder. It should work on every 32bits windows platform (95,98,NT,2000 and XP).
Just launch MicroPhotoAlbumBuilder.exe. When the main window appairs, just drag and drop image files or directories into the main frame. The builder will automatically recognize pictures (almost all image format are supported).
When your list is ok, you can build the final GBA file. To proceed, just click on the build button at the bottom right of the main window. Simply enter a file name, let's say myalbum.gba. when the file is created, you can flash it to a various homebrew developement system cartridge, or test it with an emulator.
Screenshots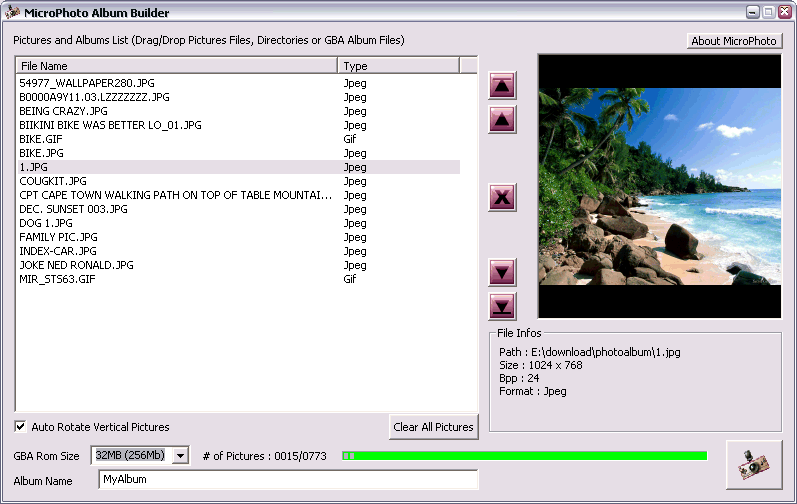 Compatibility
It works on emulator and several Nintendo machines (Gameboy Advance, Gameboy-SP, Nintendo-DS).
External links