Maziacs
From GameBrew
Maziacs
General
Author
Alekmaul
Last Updated
2010/12/29
Type
Action
Version
1.0
License
Mixed
Links
Download
Website
Maziacs is an action adventure homebrew game for the NDS. It is an adaptation of Mazogs orginally written by Don Priestley released in 1982.
It was participate in Nintendomax DS Dev Competition 2010.
User guide
You are placed in a labyrinth inhabited by some monstrous beasts in which a treasure is hidden inside a chest. Your task is to find the chest, while avoid being killed by the monsters and bringing it back to the starting point.
You are equiped with swords that raise your strength during the fights, prisoners within the maze that show you the right path and the food that gives you energy.
Pay attention to the fact that you cannot carry the sword and the treasure at the same time.
Controls
D-Pad - Move
A - Interact with special blocks (food, prisoners and sword)
Start - Pause
Select - Back to menu
Screenshots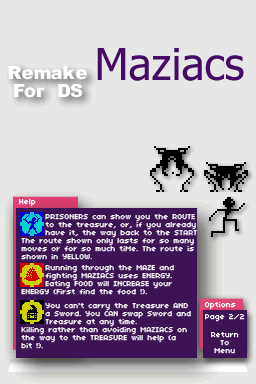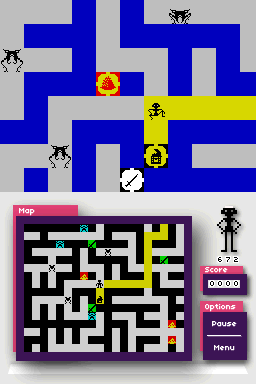 Compatibility
Tested on DSTT/TTDS (firmware 1.17a12).
Changelog
Version 1.0 2010/12/29
Credits
Special thanks to:
Don Priestley for original Maziacs concept on Zx Spectrum.
Wintermute and devkitpro team for devkitarm and libnds.
sverx for libxm7 library.
Musics from http://modarchive.org, some sounds from http://www.freesound.org and others are from the author.
External links