Mazed 3DS
From GameBrew
Mazed
General
Author
Machina
Last Updated
2015/03/18
Type
Puzzle
Version
demo
License
Mixed
Links
Download
Website
Mazed is a demo maze game created by Machina using lpp-3ds.
Features
Character movement.
Character animation.
Room transition (10 rooms in total).
One-way victory (only one route to reach the end).
Bottom screen only.
Screenshot support.
User guide
You begin in a room with one exit. From there you must go through other rooms to figure out which way leads to the end.
Making a wrong turn will take you back to where you started, and once you decide to enter a room you cannot go back.
Memory is the key to winning this game.
Controls
D-Pad - Move player
A - Enter room
Select - Exit demo
Start - Screenshot (saved in lpp/Images/Screenshot/)
Screenshots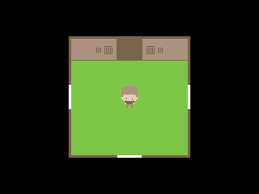 External links