Mastermind 3DS
From GameBrew
Mastermind 3DS
General
Author
MrJPGames
Last Updated
2015/08/13
Type
Puzzle Games
Version
1.1
License
Mixed
Links
Download
Website
Source
Mastermind 3DS is an adaption of the puzzle game Mastermind for the 3DS. It has a modern style interface (ios 7/lollipop) and the game is fully functional.
Features
Single and local multiplayer.
Difficulty setting (amount of possible colors in code).
Touch and physical controls.
Installation
Available in 3DSX/SMDH format.
Copy the Mastermind folder containing .3dsx and .smdh into the 3ds folder on your SD card. Then run with Homebrew Launcher.
User guide
The computer generates a random code and you get 7 attempts to crack it.
Black pins mean a correct color and correct place, white pins mean correct color but not correct the correct place.
Note: There is also a fun little secret way to cheat.
Controls
Touchscreen - Use on-screen buttons
Up/Down - Change selected color on bottom screen
Right/Left - Change selected circle
A - Input attempt
Screenshots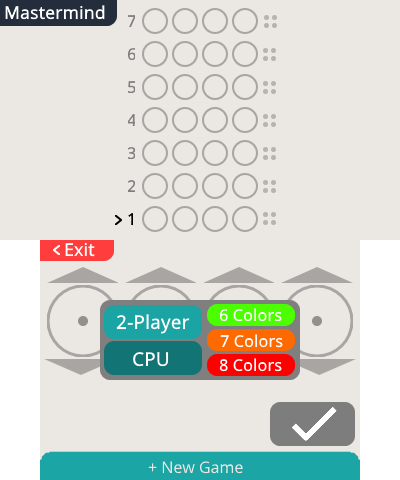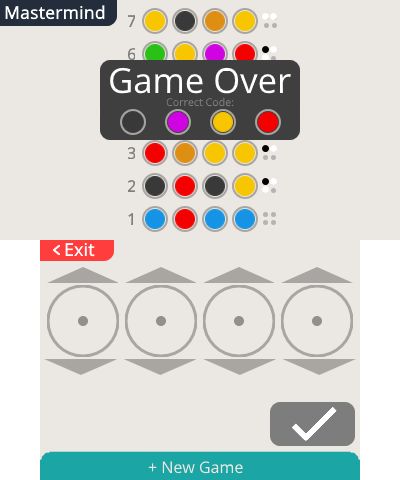 Media
3DS Homebrew: Mastermind [Deutsch|HD] (Flashcardsinfo)

Compatibility
Works with any version of ninjhax, and should work with ironhax when released.
Changelog
v1.1 2015/08/11
Local multiplayer (on same 3DS) player 1 creates code, player 2 tries to crack the code.
Added color option (6,7 or 8 colors).
If you do not guess the code correctly it will now display the correct code on screen.
Minor graphical tweaks to make it look better.
v1.0 2015/08/10
External links