MastermindDS
From GameBrew
MastermindDS
General
Author
GuSec
Last Updated
2008/08/20
Type
Board
Version
1.22
License
Mixed
Links
Download
Website
MasterminDS is a Code Breaking Board Game, a Mastermind-game for the Nintendo DS. It includes 3 different levels of difficulty, HighScore and some challenge.
This homebrew was an entry of the NEO Summer Coding Compo 2008.
User guide
The game is made for DS in book-form and instructions are included on how to play, press the little question-mark in the corner when the selection screen appears.
The objective is to guess the order and colour of four marbles in eight attempts. For each guessing, there are stars in different colours as hints. It's up to you to find the right code with the hints you get.
Silver Star - One of your marbles has the right colour but not the right position.
Gold Star - One of your marbles both has the right colour and the right place.
You can unlock the HighScore Mode through repeated success in Expert Mode.
Controls
Uses Stylus.
Start - Level-setting
Select - HighScore-list
Screenshots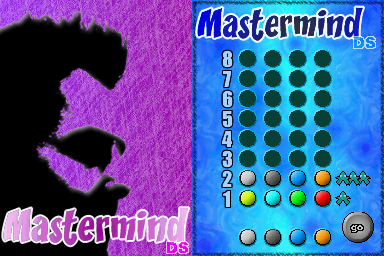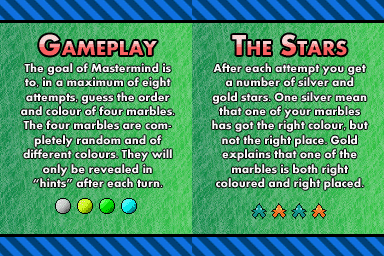 Changelog
1.22
Stability - check (+ flashing HighScore-row).
1.20
Fixed, brighter graphics, faster flow. Highscorelist added.
1.03
Improved sprite management. Version number added to description.
1.02
Fixed memory flaws and slow graphics.
External links