ManyChessDS
From GameBrew
ManyChessDS
General
Author
Sephiroth_FF7
Last Updated
2008/08/16
Type
Board
Version
1.3
License
Mixed
Links
Download
Website
ManyChessDS (formerly named as FewChessDS) is a game supporting multiple variants of chess, two playable on the DS or even a WiFi or against the AI​​.
It was participated in the NEO Summer Coding Compo 2008.
User guide
For rules, please check the in-game tutorial.
WiFi
The server should have the port 8888 redirected to the DS unless it is in the same WiFi network as the client.
The client needs to know the IP adress of the server.
The server must be started before the client.
Controls
D-Pad+A/B - Use menus
Stylus -move pieces, edit board
Screenshots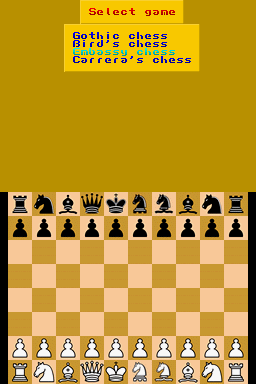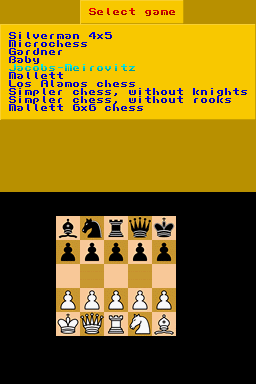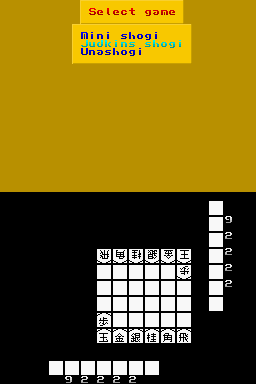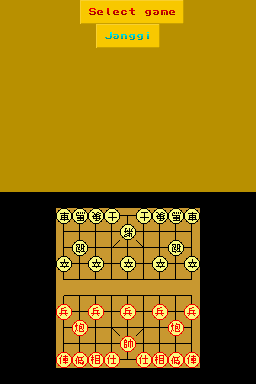 Changelog
1.3
Bugfix in wifi mode, added somes info in upper screen.
1.2
1.1
Added AI vs AI mode, all rules ingame.
1.0
Added janggi and rules ingame (now only for chess).
0.9
Faster AI.
Added Xiangqi.
0.8
Added:Mini shogi, Judkins shogi, Unasgogi.
AI won't suicide when he knows he will lose in n turns.
0.7
Added:Chess 480,Shogi.
AI 1.6 times faster.
0.6
Fix in Shatranj.
Added:Makruk,Minichess.
0.5
The pawn can promote in piece that was in either army is armies are not the sames.
Added armies Forward FIDEs et All-Around Allstars.
Added Shatranj
0.4
Added:Colorbound cloberers I and II, Nutty Knights, Gothic chess, Bird's chess, *Embassy chess.
0.3
Play vs human mode.
Variants added:Pawns game,Peasant's revolt,Peasant's revolt II,Weak!,Differents armies(only Fabulous FIDEs and Remarquable rookies).
0.2
Better AI.
Play vs machine mode.
Omega chess.
Version 0.1 2008/07/25
Premiere version, training mode almost done it's missing is improving AI.
External links