Manic Miner
From GameBrew
Manic Miner
General
Author
Alekmaul
Last Updated
2010/01/05
Type
Platform
Version
1.0
License
Mixed
Links
Download
Website
Manic Miner is a DS port of the Miner 2049er on the Atari 800, which later became Miner Willy for the ZX Spectrum Manic Miner. The game contains 20 levels from the original version.
User guide
The aim of this game is to guide Miner Willy collecting different keys in each levels and reaching the blinking exit.
Keys flash in each of the twenty caves and you must collect them before Willy's oxygen supply runs out.
Once you have collected the keys in a cave, go to the flashing portal and it will bring Willy to the next cave. Avoid enemies like robots, spiders, slimes. Willy can also be killed by falling too much, so you must jump with precision and move quickly on the floors that lift under his path to avoid falling or colliding with enemies.
The game ends when the Willy has no more life; additional lives are acquired every 10,000 points.
High score is saved when you quit the game.
Controls
Left/Right - Move Mr. Willy
A/B - Jump
Start - Start game
Select - Options
L - Change music in option menu
R - Back to the main menu
X - Pause
Y - Change levels in option menu
Screenshots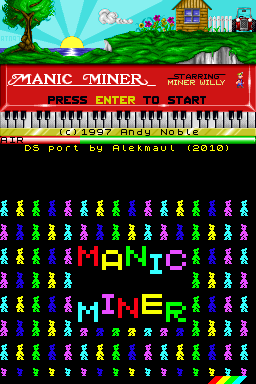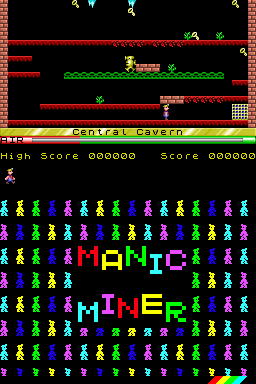 Compatibility
Tested on:
NDSTT/Top Toy DS (unofficial firmware 1.17a12)
M3 DS Real (Sakura firmware 1.44)
R4i SDHC (firmware 1.09b)

Changelog
Version 1.0 2010/01/05
Credits
Andy Nobles for PC source code version.
Wintermute and devkitpro team for devkitarm and libnds.
Sverx for libxm7 library.
External links