Manga2PSP
From GameBrew
Manga2PSP
General
Author
Yodajr
Last Updated
2007/08/17
Type
Utilities
Version
final
License
Mixed
Links
Download
Website
Manga2PSP is a simple manga reader for the Sony PSP made with Brunni's OSLib, similar to PSPComic. To use Manga2PSP, you will have to however convert the images first.
This is an entry from the Neo Summer Coding Compo 2007 (PSP Applications).
Features
Can read CBZ or ZIP files, with PNG files at 512px width (not bigger, not smaller).
Can save a screenshot.
Can save a bookmark.
Have a smooth scrolling.
Have a double page mode.
Have precaching of next image.
Can listen your MP3.
Have 2 profile for keys.
Have a light eboot.
Have a nice interface.
Installation
To install this program, you must have either Firmware 1.50 or any Custom Firmware.
Place the Manga2PSP folder in the /PSP/GAME/ folder if you are running Firmware 1.50 or if you have your version of OE set to 1.50 kernel mode, or in the MS_ROOT/PSP/GAME150/ folder otherwise.
Place your mangas in the MANGAS folder at the root of your Memory Stick. You can use subfolder if you want.
The MP3 take place at the MUSIC folder at the root of your Memory Stick.
How to make a manga compatible:
Manga2PSP can read CBZ or ZIP files, with PNG files that are exactly 512 pixels wide.
You can follow this guide to convert manga to compatibile size and format.
User guide
Double page mode:
2 pages are shown at the same time, the previous one and the current one.
You can also zoom in double page mode.
Manage manga:
Browse the mangas in your manga folder (MANGAS at the root by default, can be change by editing the Manga2PSP.ini).
You can jump to the next/previous manga in the list or leaf through the current manga.
Bookmark:
Save or load bookmark.
It saves the path of the manga, the manga itself, as well as the current page.
Profile:
You have 2 profiles, which correspond to 2 keys mapping (where buttons, flips and pad are reversed).
MP3 Player:
Listen MP3 in the MUSIC folder (can be change by editing the Manga2PSP.ini).
You can't listen MP3 and have the CPU at 96MHz, when you start the MP3 player, the CPU switch automatically at 222MHz.
Show controls:
A reminder to the keys mapping.
Modify options:
You can modify Reading direction, Language (French and English), Begin the program at menu/bookmark and CPU running speed.
The settings will be saved in Manga2PSP.ini.
Controls
While reading:
Up - Play/Pause mp3
Down - Stop mp3
Left - Previous song
Right - Next song
Triangle - Double page mode
Cross - Save screenshot.png
Square - Zoom
Circle - Bookmark
L/R - Previous/next page
Screenshots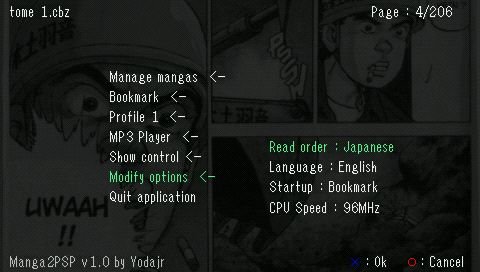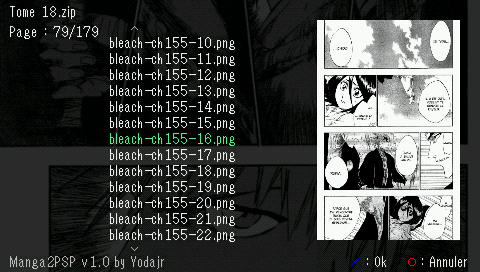 Credits
Thanks to Brunni for OSLibOSLib.
Thanks to ysilog for the help.
External links