MagneTron
From GameBrew
MagneTron
General
Author
Steven De Toni
Last Updated
2011/02/03
Type
Arcade Games
Version
1.5.3
License
Mixed
Links
Download
Website
Source
Magnetron NDS remix, a clone of Robotron and Llamatron games for the Nintendo DS. It is a fast paced arcade game.
User guide
Shoot enemies, collect friends R,G,B and get a short power shot. Collect other power ups for more abilities.
Master the ability to move and shoot in various directions at the same time if you are to survive more than a few levels. Move quickly, think fast and calculate the risk on retrieving that power up or free life, a moments distraction means death!
Note: The FAT homebrew uses to store data such as ratings and NitroEFS to start. If Flashcard does not support FAT, the only thing different is not being able to save score.
Controls
D-Pad - Move, Resume game
A - Shoot to the right
B - Shoot downwards
X - Shoot upwards
Y - Shoot to the left
Start - Pause
Note: Hold 2 buttons simultaneously to shoot diagonally.
Screenshots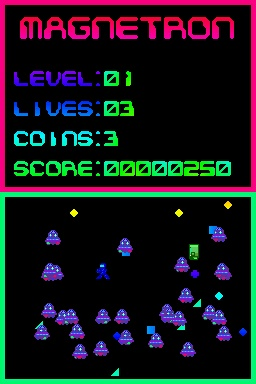 Compatibility
Tested on NDSTT (unofficial firmware 1.17a12).
Changelog
Verion 1.5 Update
Added rom loading search feature so Magnetron can exist in any directory on R4 chip.
Optmised custom blitter sprite routine for a minor speed up for particle effects.
Add continue game from last best game level (no continues though).
Fixed very minor graphical issues.
Replace pause screen with Exit Game when pressing start/select buttons.
External links