Mad City
From GameBrew
Mad City
General
Author
Schyzophrenic (Pedro)
Last Updated
2008/04/29
Type
Adventure
Version
0.9.2
License
Mixed
Links
Download
Website
Mad City is a remake of the Amstrad CPC6128 game from 1985, named The City Hellish. It is a turn-based game with different difficulty modes, to view the facilities upon completion and able to upload scores to the network. This homebrew is available in English and French.
User guide
The aim is to escape the city with your car, from the south to the north.
Challenges await as you gradually empty the tank, wear out the wheels and the engine.
There is no map however the screen will show you different paths that you can take, which will lead to different outcomes: you may get robbed; asked to pay a fine in order to pass (you would go to jail if you refuse); if there is a facility (a workshop, a roadblock) or people, you may interact to read dialogue, repair your car and refuel.
You lost the game if you fail to escape or your car can no longer run.
Controls
Menu:
D-Pad - Select option
A - Accept
In game:
Stylus - Select the facilities you want to see (after losing the game), Select whether to upload score
D-Pad - Choose direction
A - Interact with the place, advance dialogue
Screenshots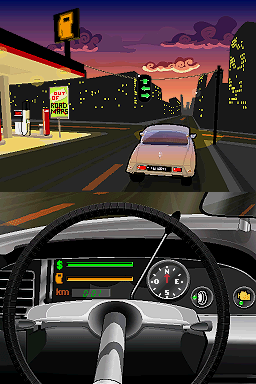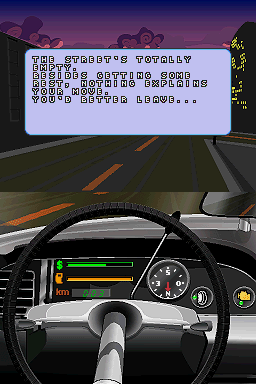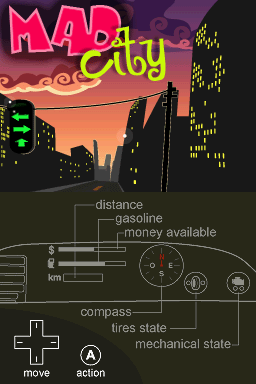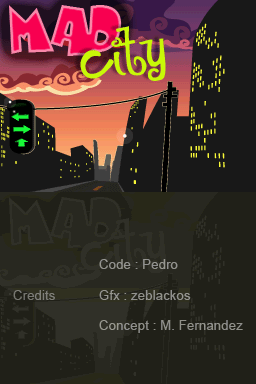 Compatibility
Tested on Supercard DSonei (firmware 3.0).
Works on emulator such as No$gba.
Changelog
Version 0.9.2 2008/04/29
Fixed bug with the compass.
Fixed the "three games in a row".
Version 0.9.1 2008/04/28
Fixed display of instructions in the wrong language.
Fixed a memory leak.
Establishment of the actual leaderboard.
Version 0.9 2007/07/11
Many changes with the previous version, the most obvious is the graphics.
In reality, the music must be redone.
Version RC3 2007/07/11
Addition of English plus French.
Version RC2 2007/07/03
Fixed bug preventing to three straight games (for the most motivated).
Fixed bug which prevented to start a game on No$GBA. The game is now fully compatible with the emulator.
Significant decrease of the difficulty.
Version 0.3 2007/06/10
Added a small page for Credit render unto Caesar what is Caesar (Michel finally here instead) and the very famous music summer camps at the end of game.
Version 0.3 2007/06/08
Ability to display the entire text by pressing A.
Ability to switch the alarm by pressing A.
Adding the route in the city at the end of the game.
Added the location of different types of buildings at the end of the game.
Fixed a bug that showed what was paid in the bottom screen.
Fixed a bug where you could be stolen even if we had more money.
Reduced the difficulty of the game.
Version 0.2 2007/06/07
Completely rewritten the whole code.
Changing the generation of the labyrinth.
Adding sounds, sprites, events and texts related to shares.
Management for different game.
External links