LuaIRC 3DS
From GameBrew
luaIRC
General
Author
Rinnegatamante
Last Updated
2016/11/14
Type
Other Apps
Version
1.0
License
Mixed
Links
Download
Website

luaIrc is an IRC client for 3DS written with Lua Player Plus 3DS, allowing you to chat with your friends whenever you want.
The homebrew was originally written for PS Vita and ported to the 3DS.
Features
Multi-channels support: You can join multiple channels and switch towards chats easily.
New messages detection: When a new message is detected on an inactive chat, the channel name will change color in the channel list.
PART, QUIT, JOIN, PRIVMSG, PING, NAMES, TOPIC commands detection.
Auto-detection of Nickname for default nickname usage.
Channel's topics support.
Private messages support (insert an username as the channel when opening a new channel).
User guide
The configuration file config.lua can be edited and put in /luaIrc/ to change some default settings (optional).
nick_default - Default nickname that will be shown at startup (Default: PSN Nickname).
server_default - Default server hostname that will be shown at startup (Default: Freenode).
channel_default - Default channel name that will be shown at startup (Default: #botwar).
Controls
A - Prompt keyboard to send a new message.
Start - Prompt keyboard to connect to a new channel.
Up/Down - Switch channel
Select - Exit homebrew
Screenshots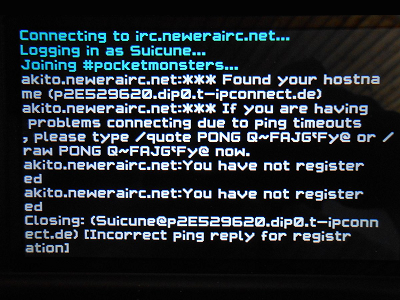 Credits
StepS for showing how PART and QUIT commands work.
ihaveamac for the help while testing the homebrew.
External links