Lost Marbles
From GameBrew
Lost Marbles
General
Author
Sych
Last Updated
2010/04/02
Type
Puzzle
Version
0.2
License
Mixed
Links
0.1 Download
Website
Lost Marbles is a DS homebrew puzzle game based on Lose Your Marbles game developed by SegaSoft and released for Microsoft Windows. It offers 3 levels of difficulty.
Note: Link is for v0.1 only (latest release is v0.2).
User guide
You must align 3 or more balls of the same color in the middle white column, thus obtaining points.
Make combos to gaining more points to win the AI ​​or CPU. 3 difficulty levels include Easy, Medium and Hard.
Controls
Menu:
Y - Change difficulty
Start - Start the game
In game:
Left/Right - Move row to right/left
Up/Down - Change the row to top/bottom
Start - Pause, Return to the main screen (at the end of a game)
Screenshots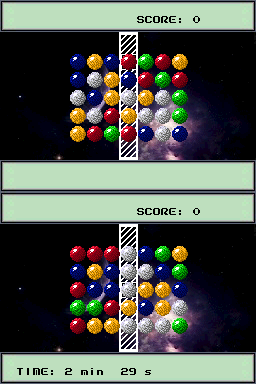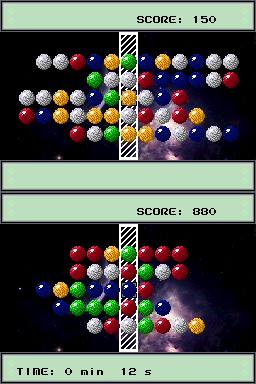 Compatibility
Tested on R4i-SDHC (firmware 1.09b).
Changelog
V.0.2 2010/04/28
Improved graphics.
Improved playability.
The game now features a pretty decent AI (including Ultra Hard level).
Selectable timer.
"Pause" feature: pressing START when playing.
Features Bonus Ball: for each line of the bonus ball, adds 1 to the counter! Unleash the bonus ball by making a line of 5 balls and the opponent will take the amount of balls unleashed.
External links