Lode Runner
From GameBrew
Lode Runner Origine
General
Author
C_Boy
Last Updated
2012/01/24
Type
Platform
Version
3.0
License
Mixed
Links
Download
Website
Lode Runner Origine is a DS remake of the game Lode Runner, released for Apple II in 1983 created by BroderbundSoftware.
This version includes the 150 original levels, a bonus of 35 additional tables and a Level editor to create new level yourself.
User guide
The hero (green) must collect all the cash box without getting caught by enemies enemy (red). To achieve the goal you can dig holes in the ground to bring down the enemies.
When an enemy falls into a pit it will be trapped for a few moments, and the holes will close automatically after a certain time. If an enemy is in a hole while it closes, it will be reborn at a random spot near the top of the screen.
The hero can pass through the hole, if there is nothing underneath. Once you collect all the necessary boxes (note that enemies also collect boxes), a ladder will appear that will take you to the next level.
Controls
D-Pad - Move
Y/A - Dig
Screenshots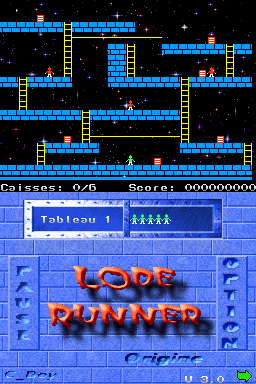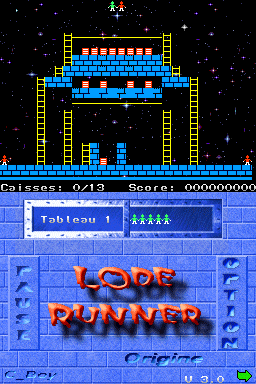 Changelog
V3.0 2012/01/24
V2.0 2011/04/04
New engine displacement of enemies.
Creating an automatic backup system to take the games there. This system is not active when using the L and R buttons.
Adding a bonus of 35 additional level.
External links