Lil Fighter PSP
From GameBrew
Lil' Fighter
General
Author
Yongobongo
Last Updated
2007/03/02
Type
Action
Version
1.00 beta
License
Mixed
Links
Download
Website
Lil' Fighter is a beat' em up action game based on the computer game Little Fighter 2 created in 1999.
It was submitted to the PXP Homebrew Competition in 2007.
Installation
The PSP homebrew version can be installed by copying the folder Lil' Fighter to ms0:/PSP/GAME/.
Custom Firmware users, likewise, should put it in ms0:/PSP/GAME150/.
Controls
Cross - Attack
Circle - Jump
D-Pad - Move
Analog - Move
Start - Pause
Select (during pause) - Exit
Screenshots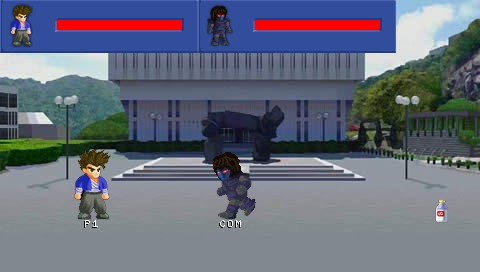 Credits
Coded for PxP contest 07'.
Coded by Yongobongo.
GFX by Lil_naruto (Cronos Studios).
Sprites and sound by http://www.lf2.net.
External links