Light Cycle Clone PSP
From GameBrew
Light Cycle Clone
General
Author
titch.ryan (Luke Ryan)
Last Updated
2008/06/25
Type
Arcade Games
Version
2.1
License
Mixed
Links
Download
Website
Light Cycle Clone is an arcade action game for PSP based on the light cycle race from tron and inspired by flash game Fl Tron. The game has a 2-player game mode (on the same PSP) and single player mode.
It has been entered to the PSP-Hacks Homebrew Idol in 2008.
Installation
Copy the LightCycleClone folder to GAME on your psp.
User guide
The game simulates a motorcycle test of multiple participants, in which you have to block your opponents in an area and corner them within a wall created by the tail of your motorcycle. The motorcycles cannot stop and will be eliminated when they collide.
Music player was added in the latest release and it loads MP3 from your /PSP/MUSIC/ folder.
Controls
Cross - Select
D-Pad - Movement (player 1)
Circle, Cross, Square, Triangle - Movement (player 2)
L/R - Change song
Screenshots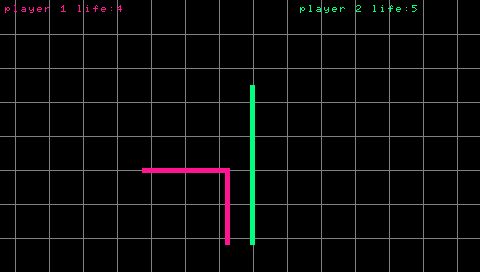 Changelog
V2.1
Added background.
Added music player (plays from psp/music if not empty, use shoulders buttons to change track).
Improved ai (its actually worth playing against computer).
V2
Added single player mode. AI works but can be improved alot.
External links