Last Survivor
From GameBrew
Last Survivor
General
Author
The Dark Master
Last Updated
2011/08/31
Type
Action
Version
2.0
License
Mixed
Links
Download
Website
Last Survivor (Spanish) is a DS homebrew sand box adventure action game that immerses you in the role of a person who has appeared in the middle of nowhere, mountains on one side and desert on the other. Your goal is to build a home or shelter for the night outside the scope of the monsters that are scattered by such a mysterious place, an experience you could not miss.
It was presented in the Scenery Beta 2011.
User guide
By some strange circumstance you have appeared in the middle of nowhere, in an uncivilized place where we only see mountains, deserts and snowy fields, which change every time you start a new game.
The main objective is to settle in this place, you can take part of the terrain by tearing it with the Stylus and put it where it suits you best, or you can use the table to transform part of your objects into different ones.
Do not forget that you are not alone, walking around you can find from scorpions or pigs to zombies or robots (the latter only in the dark), the pig is the only one that does not attack you, and if you kill it it makes you recover life, the rest will try to annihilate you.
Gameplay
The menu is displayed on the upper screen (which can be accessed by pressing Start), in which you can see the tutorials. You can assemble objects with the material you collected (by standing next to the craft table), organize inventory and you can also save your progress.
Your mission is to make a well-lit home to ward off the creatures, and create the best possible quality tools to help you survive.
Controls
Stylus - Take some of the ground, Put object in inventory, Attack, Select an option
D-Pad - Move character, Moves selection (main menu)
A - Jump (in game), Choose (main menu)
L/R - Change object in the inventory
Start - Go to top menu
Screenshots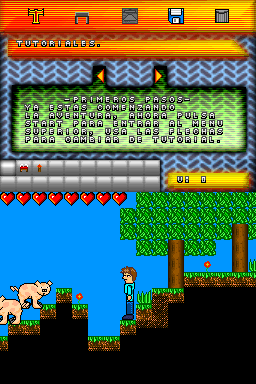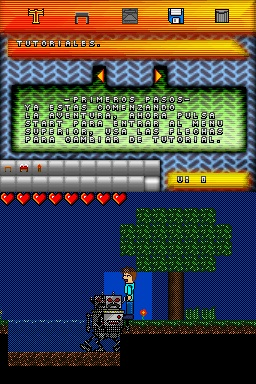 Compatibility
Tested on DSTT/TTDS (firmware 1.17a12).
External links