Lapinou Jumps!
From GameBrew - a wiki dedicated to Video Game Homebrew.
Lapinou Jumps!
General
Author(s)
Thoduv
Type
Platform
Version
1.2
Licence
Mixed
Links
Download
Website

Bunny jumps! is an amateur game for Nintendo DS, and programmed by Thoduv with original graphics made ​​by Nhut. This is a homebrew platform game in which you control a rabbit.
It was presented in the Dev-fr Coding Compo 2007 sponsored by DS-X, ranked 8th in the Game section.
User guide
It is a tower game where the the objective is always to progress upwards, using blocks acting as platforms.
Lapinou is a nice little carrotivore rabbit who happens to be, for some reason that no one has been able to explain, stuck in a sort of infernal tower, between two edges of the screen.
But fear not for our rodent friend, who despite having a little variety in diet, is rather smart and cunning.
By dint of reflection, he therefore found the solution to his imprisonment: this solution is simple, it's to go up.
Go up?
Oh yes, here it is, I see strange blocks of land as if suspended in the middle of the void by a divine force very favorable to the survival of the species of rabbits, who as you know, is necessary for the proper regulation of the quantity of carrots in the ecosystem, but short.
More astonishing still, these famous magic blocks seem to indicate a path, to form a staircase towards the freedom of our dear Lapinou.
So he takes courage with his two ears, warms up his paws, and begins to leap from block to block.
But horror: it turns out that these are rather fragile and quickly crumble under the weight of the rodent doped with carrot juice...
Your mission is to play as a rabbit in distress, and give it back its freedom. Overcome the platforms with vertical jumps, you will need to wait for the power bar to recharge in order to achieve a higher jump.
You can post rankings on this site.
Controls
D-Pad - Movement
A - Jump, Ok (menu)
Start - Exit, Start (menu)
Screenshots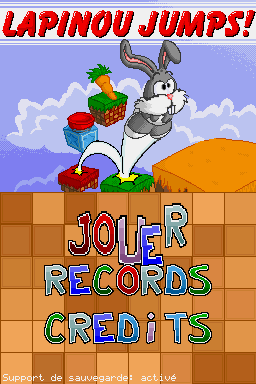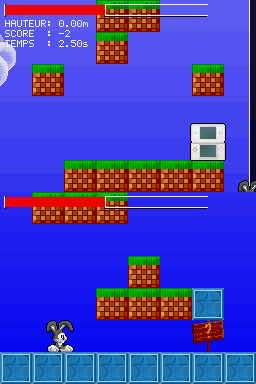 External links