Lab Sound GBA
From GameBrew
Lab Sound
General
Author
Karoubi Vincent, Laurent Arnaud
Last Updated
2003/07/15
Type
Music Apps
Version
2003
License
Mixed
Links
Download
Website
Source
LabSound is a Game Boy Advanced music creation project that aims to awaken the artist in all of us.
With a design similar to FL Studio or eJay, it allows you to compose your own sound loops, whether or not accompanied by catchy rhythms. Anyone can produce a complete music of about 2-3 min, utilizing the pre-programmed rhythm machine system and add your own melodies or drum sounds over it.
Features
Drum 'n Bass mode.
Melody mode.
Song mode.
Backup mode.
User guide
Drum 'n Bass mode
In this mode, you have access to a panel of 12 different sound and 5 predefined rhythms:
Hip-hop.
Tech.
House.
Jumbe.
Miscellaneous.
Melody mode
The user interface being similar to that encountered during Drum mode, this makes it easier to learn and use. Here, the musician has access to all the notes of the scale, and to the octaves (the 6 main octaves are available).
It can also adjust various parameters of the pattern, played along with the waveform, duration and finality of the note, thus altering the tune of the melody.
The different parameters are:
Duty - Allows to modify the shape of the wave.
Soundlength - Modifies the length of the note played.
Sweep - Allows you to modify the finality of the note. For example, the note will tend to go down or up in intensity over time.
Song mode
The Song mode allows you to put together the different patterns previously created.
A fast forward/backward system allows you to return to the desired part at any time.
Available options are:
Fast rewind to 1st pattern.
Fast rewind 3 patterns.
Fast forward 3 patterns.
Fast forward to last pattern.
A save button allows easy saving to the default slot without having to go through Save mode. The default slot is the last one used.
Save Mode
Here you can save/load your compositions..
There are a total of 10 slots. You can also rename your backups.
Screenshots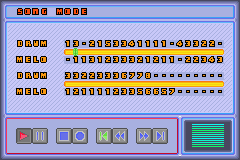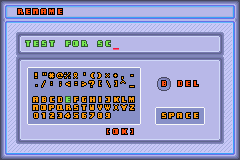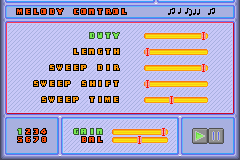 External links