LabKillHomer3D PSP
From GameBrew
labKillHomer3D
General
Author
pspflashsystem
Last Updated
2009/06/12
Type
Shooter
Version
2.0
License
Mixed
Links
Download
Website
LabKillHomer3D is a maze game released by pspflashsystem and is available on both PSP and PC. The homebrew is coded using PFST3DEngine, a game engine also made by the same creator.
It is featured at the PSP-Hacks Homebrew Idol 2 competition in 2009.
User guide
Gameplay
Your goal is to leave the labyrinth. For this, you must kill Homer Simpson else you won't be able to leave this labyrinth. Besides, there is a minimap to assist you.
Map's Editor
You can create your map in this mode using these elements: wall, empty space, player, Homer and exit.
Controls
Menu:
Up/Down - Move cursor
Right/Left - Change Homer's language's sound (English or French)
Cross - Select, Confirm
In game:
Cross/Triangle/Circle/Square - Move player
Analog - Move camera
L+Analog - Move camera more precisely (for aiming)
R - Shoot
Select - Go to Sky Mode to view the labyrinth, Leave Sky Mode
Start - Back to menu
Map's Editor:
R - Change element
Cross - Place the current element
Start - Go to editor's menu
Up/Down/Right/Left - Move editor's cursor
Analog - Move editor's cursor faster
Screenshots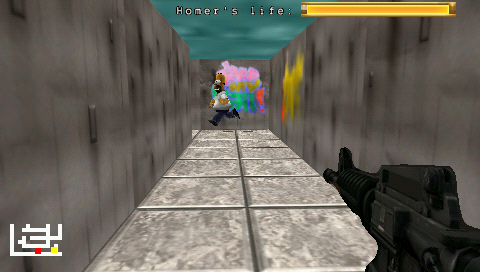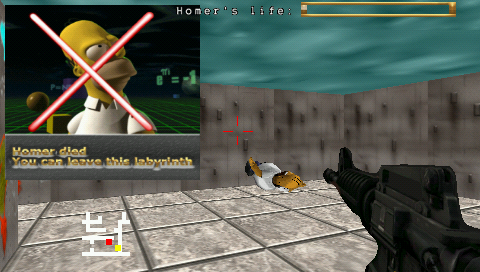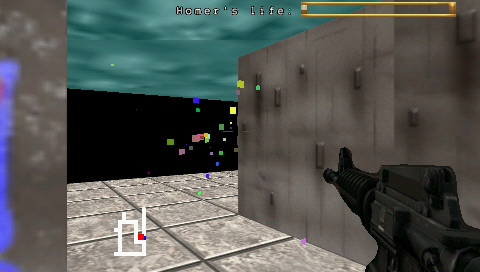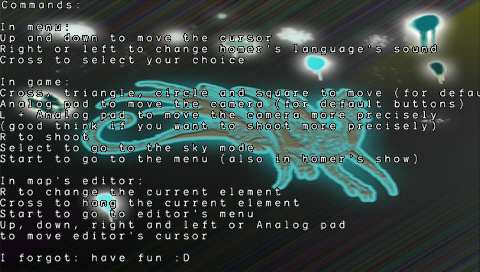 Media
The strangest Homebrew on PSP? Lab Kill Homer 3D (luigi2498)

Changelog
Version 2.0 2009/06/12
Walls are a lot brighter.
Lights fixed.
Now implemented AI: Homer moves more "intelligent", he runs away when you approach.
Pspjoke's bug lol solved.
Now just a part of the mini map is drawn so more difficult to find the exit and consequently funnier.
The text is now clearer.
Added a new splashscreen effect and a new opening animation.
When you shoot new particules are drawn.
Also when you shoot homer, now he jumps.
Version 1.0 2009/06/06
External links