Kongregate
From GameBrew
Kongregate
General
Author
Mollusk
Last Updated
2007/07/17
Type
Action
Version
2007
License
Mixed
Links
Download
Website
Source
Kongregate is a DS clone of the flash game Orb Avoidance.
User guide
Avoid the incoming orbs as they fly towards you.
Touching the boxes or the orbs will mean game over for you, but if the orbs touch the boxes, it's game over for them too!
Move the orbs and force them to crash into the blocks. As you destroy more orbs, the combo bonus will rise, giving you more and more points per hit.
There are 3 types of balls with different speed and behavior.
Screenshots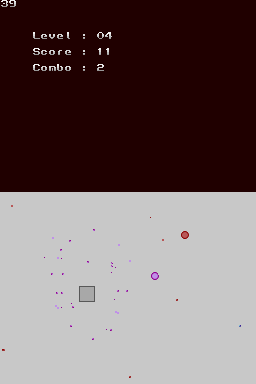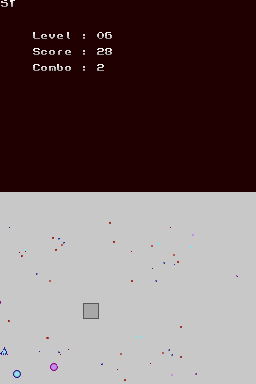 Changelog
2007/07/17
Change explosions, now consist of real pieces of sprites.
Adding a combo system.
2007/07/06
Decrease in the size of the arrows.
Explosions (gets interesting when there are more than 4-5).
2007/06/01 night
Slower speed when arriving at the screen.
Direction indicator for balls off screen.
2007/06/01 morning
External links