Jump n Bump PSP
From GameBrew
Jump 'n Bump PSP
General
Author
MK2k
Last Updated
2008/03/26
Type
Platformer
Version
1.51b
License
Mixed
Links
Download
Website
This is a homebrew port of Jump 'n Bump, a 1998 freeware and open-source MS-DOS platform multiplayer video game by Brainchild Design.
This is ported from the Unix/SDL version to PSP, written in C.
Features
2 Players on one PSP.
Cheat Modes accessible via button combinations.
Installation
Copy the content of the directory FW3xx/MSROOT to your Memory Stick.
User guide
This is a game for the whole family. You are cute fluffy little bunnies and hop on the other bunnies' heads.
At the beginning you are in the menu, where you have to jump over the tree trunk if you want to play and walk right. Then you'll enter the arena.
The aim is to jump on the other bunnies' heads...
Notes: For the PSP it is not bad to enable the Pogostick mode, so only 2 buttons are necessary to be used by both players.
Controls
2 Players Match:
Analog/D-Pad Left - P1 Left
Analog/D-Pad Right - P1 Right
Analog/D-Pad Up - P1 Jump
Square - P2 Left
Circle - P2 Right
Triangle - P2 Jump
Cheat Modes:
Start+D-Pad Up - Pogostick (continuously jumping bunnies)
Start+D-Pad Right - Bunnies in Space (Bunnies can jump higher)
Start+D-Pad Down - Jetpack
Start+D-Pad Left - Lord of the Flies (Flies are following the Bunnies)
Start+L - Blood is thicker than water
Screenshots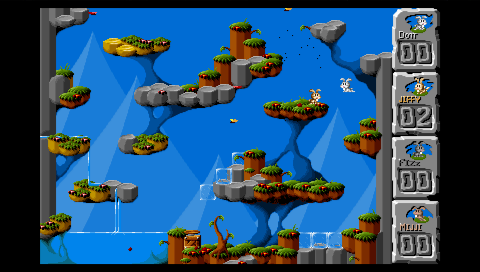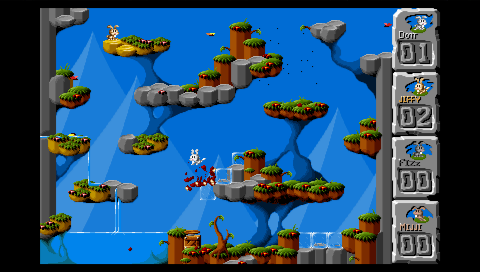 External links