JumpFree
From GameBrew
JumpFree
General
Author
Alekmaul
Last Updated
2005/05/10
Type
Arcade Games
Version
2005
License
Mixed
Links
Download
Website
Jumpfree is an adaptation of a game released on ZX Spectrum called Bugaboo (or La Pulga) on NDS.
User guide
The goal of the game is to get a poor little chip out of a hole where it fell.
Tap on the left side allows you to jump to the left, the longer you press, the further the jump is (you have to look at the progression bar to know the exact range of the jump).
The same applies to the right.
Controls
Play with the stylus.
Start - Start/pause game
Screenshots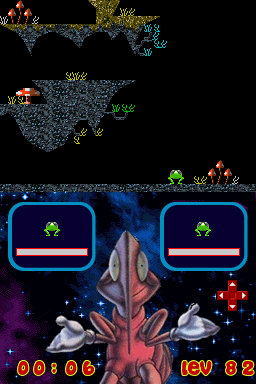 Compatibility
It only works on DeSmuME and Ideas emulator, also works on Hardware.
Changelog
2005/05/10
Playable Version. It remains to deal with the monsters and the end of the game.
2005/03/24
External links