Jump!
From GameBrew
Jump!
General
Author
Ryan (Synvox)
Last Updated
2010/06/01
Type
Arcade Games
Version
2010
License
Mixed
Links
Download
Website
Jump! is an adaption of the arcade game falling for the NDS.
User guide
Move your character left or right, and guide his fall so that he lands on a safe platform. When you find yourself in a pickle, jump to the purple booster and bounce your way to safety, but be careful, the wind and gravity change randomly.
The objective of the game is try not to fall off the screen, beat your previous high score and receive a ranking for your efforts.
Who knows, you may be an EPIC FAIL! or one of the few who can survive long enough to receive the Unbelievable!!! ranking, the highest ranking of all.
Controls
D-Pad - Move character
Screenshots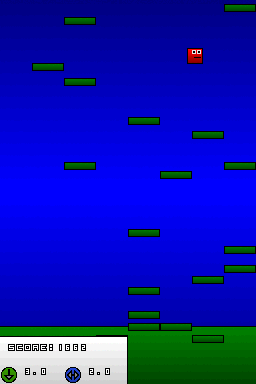 Credits
Todoakaio for the song, "Put Your Hands Up for the Vallred".
External links