JezzballDS
From GameBrew
Jezzball DS
General
Author
Erick Citaire (Ricco)
Last Updated
2008/05/29
Type
Action
Version
1.3.0
License
Mixed
Links
Download
Website
Source
JessballDS is a Jezzball clone from the Microsoft entertainment Pack, which was originally created in 1992 by Dima Pavlosky.
User guide
The goal is to eliminate as many of the squares as possible by isolating them from the area, without having your colorful cutter destroyed by the moving balls.
You can move the arrow tool with either the Stylus or D-pad, changing direction (horizontal or vertical) with the shoulder buttons.
Tapping the arrow tool or pressing the A button will deploy the cutter. Sound and speed are togglable from an options menu.
Controls
A - Create wall
B or L/R - Switch cursor orientation
X - Create a vertical wall
Y - Create a horizontal wall
Start - Pause
Screenshots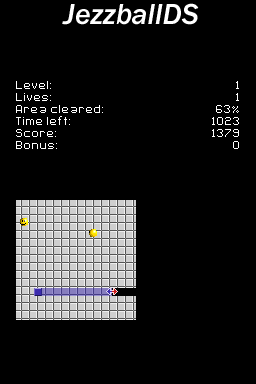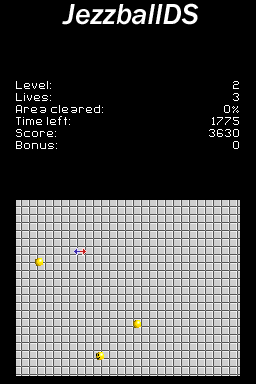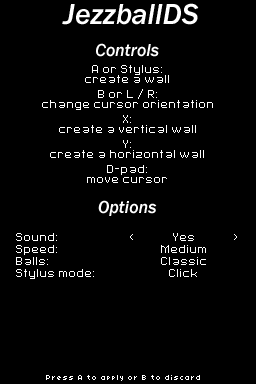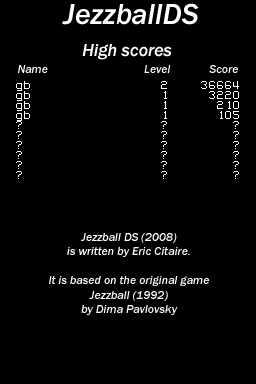 Compatibility
Tested on iPlayer (OS 1.3 firmware 1.0.6).
Changelog
Version 1.3.0
Added possibility to choose a level you've already reached.
Added possibility to quit the game by pressing start.
Minor bugs fixes and optimizations.
Balls redrawn.
Version 1.2.1
Fixed issue 2 (bug in french version).
Version 1.2.0
Added version number on splash screen.
Reduced splash screen minimum display time.
Replaced the tiled font by a bigger 16c font (based on "SF Pixelate" from dafont.com).
Little code refactoring in messages.
Version 1.1.0
Fixed issue 1: added collision between blue square and red square, same logic as the original game.
Added new controls : X and Y to build vertical and horizontal walls without having to switch cursor orientation, B to switch cursor orientation (for those who don't like triggers).
Added basic controls help in options menu.
Added new stylus mode in the options menu: stretch.
Added new balls theme in the options menu: smiley.
Little code cleaning (mainly in options defines).
Version 1.0.0
External links