Jangki DS
From GameBrew
Jangki DS
General
Author
beodeulpiri
Last Updated
2009/03/22
Type
Board
Version
0.2
License
Mixed
Links
Download
Website
Jangki DS is a Jangki board game that is oriental chess game in Korea. It's similar to China Jangki but rule is different.
It was placed 10th in the the NEO Spring Coding Competition 2009, Game section.
Installation
Download and extract file.
Copy it to the root directory of the card.
User guide
Game rules
King (Cho: black team) - Always the first move, King (Han: red team) next.
Jol, Byung - One step move, no retreat.
Sang - One step straight, two step diagonal, no cross piece at moving way.
Ma - One step straight, one step diagonal, no cross piece at moving way.
Po - Need to cross piece for moving except Po.
Cha - No limit moving straight.
Sa - Only move in square palace together King (Cho, Han).
You can skip turn when no place to move.
You are allowed to undo once when mistake or checkmate.
When game ended, Press Exit button for new game.
Controls
Tap piece - View movable path
Tap other piece twice - Change selected piece
X - Exit
Y - View help
B - Back
Screenshots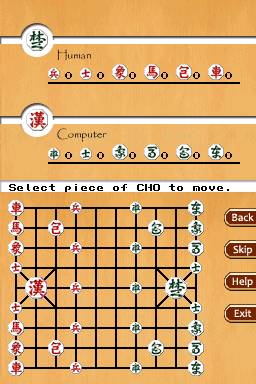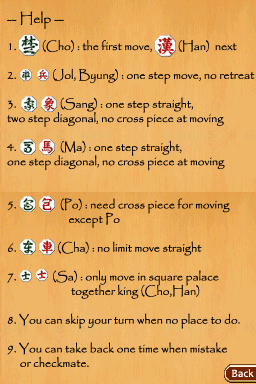 Changelog
Bugfix 2009/03/22
Odd moving of King, Cha when click to target (Critical bug).
Add Janggoon (Checkmate) alarm.
Game speed up.
Credits
Code & GFX: beodeulpiri.
Graphic: beodeulpiri.
Specials Thanks: palib.info and the others.
External links