JNKPlat 2018 3DS
From GameBrew
JNKPlat 2018
General
Author
Jayenkai
Last Updated
2018/11/10
Type
Puzzle
Version
2018.10.02
License
Mixed
Links
[JNKPlat & Level Pack Download]
Website
JNKPlat is a 3DS homebrew puzzle game, wrapped in the skin of a Platform game, but is first and foremost a Puzzle game.
Features
Different themes.
100 levels.
Nice and functional editor.
Installation
Available in 3DSX and CIA formats.
CIA - Install the .cia with the CIA manager of your choice.
3DSX - Use the .3dsx provided with the Homebrew Launcher.
Custom levels go to sdmc:/agawasave/.
User guide
Welcome to the wonderful world of Platdude.
We join our adventurer as he roams around a series of dungeons and caverns and puzzling areas for absolutely no reason other than to gather up as many blue spheres as he can.
Why does he do it? Nobody's sure.
But gathering up all the spheres seems to unlock a door to yet another dungeon, cavern or otherwise puzzling area.
Two Button Jump
You can turn this off in the main menu. The toggle is on the top-left.
It is recommended to play JNKPlat with two jump buttons (more difficult with only one jump button).
Level Editor
You should find the level editor to be more or less intuitive enough.
The button top left will play the level, bottom left will toggle all the different tile-types, top right changes themes, whilst bottom right exits the editor.
The second button on the top right will switch between the four levels in a pack, and beside that is a button to enter your name.
In the middle of the top bar is the level pack's name. Click on that to edit it.
The delete (trashcan) button on the top left, also includes a level randomiser, which occasionally makes for a good starting point.
Once you've made a set of 4 levels in a single pack, head back to the menu and play through all 4 to earn the All-4 icon for that level pack, to ensure the levels are completable.
Upload/Download Level Packs
To upload your levels, take the MyLevels.lev file from your SD card and upload it via this page.
To play custom levels, place the .lev file in the agawsave folder on your 3DS's memory card.
Controls
D-Pad - Move
Y/A - Jump to the left/right
B - ​Hold
Screenshots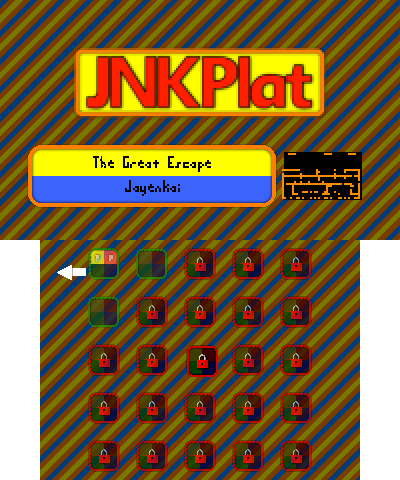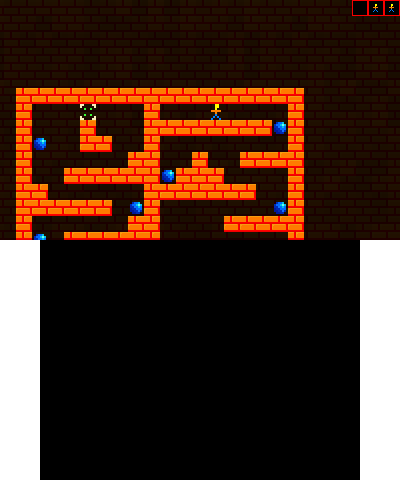 Media
JNKPlat 2018 (Jayenkai)

External links