Icarus Adventure System
From GameBrew - a wiki dedicated to Video Game Homebrew.
Icarus Adventure System
General
Author(s)
Jordi Pérez
Type
Game Engine
Version
1.1d
Licence
Mixed
Links
Download
Website

Icarus Adventure System is an application to create adventure games for the Nintendo DS portable console.
It is a completely free system that allows you to play adventure-type games for the Nintendo DS console, without the need to program in C language, since the program includes a simple Scripts system that will allow you to equip your game of all the interactivity necessary to create the plot of the game.
Once you have completed creating the adventure gmae, it can compacted the files into a single ROM file (.nds, .sc.nds or ds.gba) and run on the NDS as a homebrew.
This homebrew is available in multi-language, including Spanish, Catalan, English, Portuguese and French (documentation is in Spanish only).
User guide
Main functions
Images of backgrounds of the towns in JPG format at 16 bits of color.
Possibility of including animations superimposed on the location (with or without transparencies) whether they are characters speaking, explosions, buttons, levers, etc ... and also at 16 bits of color.
Player item inventory of up to 5 capacity items. Each object is represented by a 32x32 icon.
Possibility of including a detailed full screen image of each object.
Up to 3 objects per location, directly collected by the player.
Up to 240 different locations per adventure.
Up to 8 simultaneous on-screen animations per location.
Possibility of defining active zones in each location. They are touch zones that can be assigned different functions.
Music in .MOD format for introduction, background, end of game or to be played at any time during the game.
Sound effects in .RAW format (actually they are MP3 or WAV files converted with the Switch program)
Creation, by the player, of actions combined with three elements: ACTION + OBJECT + DESTINATION OF THE ACTION.
Text console on the top screen to display messages to the player. Automatic messages from the system itself will also appear on that console.
Possibility of presenting messages to the player on both screens.
Dialog creation system.
All graphics, icons, and sounds are modifiable to customize them according to the theme and aesthetics of the game.
Predefined system for choosing responses or actions. The player will be able to choose between various options that we offer them.
Health, money, points or configurable markers.
Save and recover game at any time during the adventure.
Typeface with support for Spanish and Catalan characters.
Possibility of making the initial presentation of the adventure with sequences of images on both screens.
All the development of the adventure game can be tested on the PC using a Nintendo DS emulator.
Creation of ROM files type .nds, .sc.nds and .ds.gba to be used in different types of Nintendo DS Flash cartridges.
The games created will be able to work in both Slot 1 and Slot 2 of the Nintendo DS.
Requirements
Below is the list of hardwares and softwares that you will need for Icarus Adventure System:
1 GHz PC with Microsoft Windows 2000/XP/Vista, 1 GByte of RAM, 50 Mbytes of hard disk.
Graphic Converter PAGfx (included with Icarus Adventure System).
Program PAFS to compact files to .nds (included with Icarus Adventure System).
Text Editor, such as conTEXT.
Audio converter, such as Switch.
Audio Editor, such as ModPlug Tracker.
Graphic Editor, such as Adobe Photoshop and Gimp.
File/image viewer, such as XnView.
Nintendo DS Emulator, such as NO$GBA.
A Nintendo DS or Nintendo DS Lite.
A Flash cartridge for Slot 1 or Slot 2 for Nintendo DS or Nintendo DS Lite.
Screenshots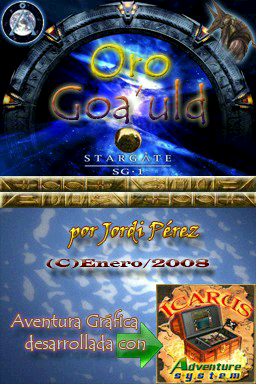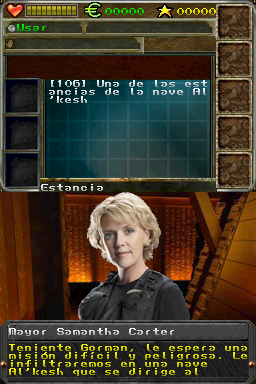 External links