I Ching DS
From GameBrew
iChingDS
General
Author
Sam Malone
Last Updated
2008/08/12
Type
Other Apps
Version
0.51
License
Mixed
Links
Download
Website
iChingDS is a NDS homebrew that provides iChing readings. It is a work in progress.
User guide
Ask your question and toss the coins. Your coin tosses will be displayed (H/T for Heads/Tails) and the first line of your hexagram will be displayed (in red if it is changing, otherwise in black). The hexagram is built from the bottom.
Once you've tossed the coins six times, your finished hexagram will display on the top screen, complete with text.
Any changing lines will be displayed on the bottom screen. You should pay special attention to these.
Controls
A - Toss coins
L/R - Switch display between two hexagram
Start - Recast coin for new reading
Screenshots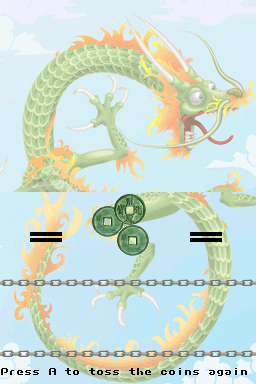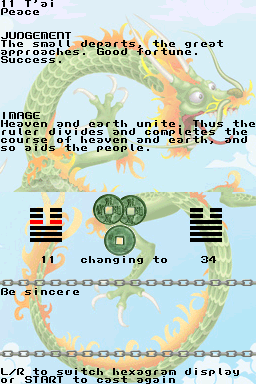 External links