IBrowse PSP
From GameBrew
IBrowse
General
Author
grafele
Last Updated
2008/08/21
Type
File browsers
Version
1
License
Mixed
Links
Download
Website
IBrowse is a Filebrowser and Minishell for the PSP. Made by grafele.
It was submitted to the Neo Summer Coding Compo 2008 (PSP Applications, 5th place).
Features
Filebrowser with Intrafont.
Installer Menu similar to XMB.
Typical filebrowser functions (rename, delete, copy, create new folder, etc.).
Show string and size of the file.
View Battery power.
View and change CPU clock.
Play music in AT3, AA3 and MP3 format.
Open picture files.
Launch Homebrews.
Start ISO and CSO files.
Open HTML and PHP files.
Open open FLASH files.
Open animate GIF files.
Start ELF and PRX files.
Extract ZIP files.
Navigate and open files from flash0, flash1, flash2, flash3 and UMD.
Start game UMDs.
Start PSX games.
Start Sony and M33 updates.
Gives the ability to access flash0, flash1, flash2, flash3, and UMD using the USB.
Dump UMDs.
Change the volume with the right button.
Take screenshots and the programm rename it to screen1.png, screen2.png, etc.
Splashscreen will be shown at start.
Include icon0 and pic1 for the XMB.
Uses Original Sony Messages.
Filebrowser uses the Sony OSK.
Installation
Copy the folder iBrowseInstaller on your Memory Stick into the GAME folder.
Start it from the XMB and it will install iBrowser on your PSP.
Controls
D-Pad Up/Down - Move between options
D-Pad Right - Enter a section from main menu
Square - Open options panel in filebrowser
Triangle - Return to the previous folder in filebrowser
Cross - Select, Run, Play music
Circle - Stop Music
R - Return to the main menu from filebrowser
Screenshots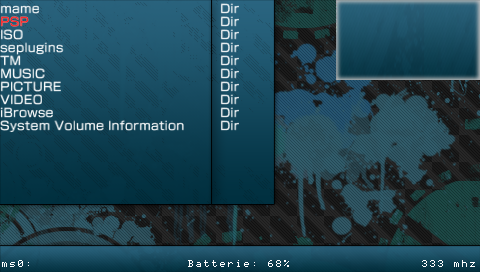 Media
iBrowse (grafele)

External links