Hokuto No Doom
From GameBrew
Hokuto No Doom
General
Author
Benoit Spacher (iceman57)
Last Updated
2008/07/07
Type
Action
Version
1.1.2
License
Mixed
Links
Download
Website
Hokuto No Doom is a homebrew 3D first-person action game for the NDS. It is an adaptation of the Hokuto No Ken comic/TV animation, also known as Fist of the North Star, into the Doom engine.
It is based upon DS Doom version 1.1.2 (port of PrBoom to the NDS) and is a complete adaptation of the Doom episode 1 resources: new textures, new objects, new sprites, new weapons, new sounds, news musics, etc.
The game is available in English and French.
Features
The first game ever where you really are Kenshiro.
New weapons and awesome techniques.
9 totally remapped levels including a complete review of the lights.
Completely new atmosphere with the Japanese original voices.
The best digital BGM themes from the Kodomo Band and Crystal King.
Face the five biggest villains from the first chapter: Zeed, Spade, Golan, Heart and Shin.
Get assistance from Kenshiro's friends: Bat, Rin, village chief and Johnny.
A multiplayer gaming able to handle up to 4 players.
Preserved TV style black and white censored explosions.
Compliant with DOS, Windows and the OpenGL engines (Doomsday, Doom Legacy, etc).
Installation
Copy all the following files to your card (in the same directory):
dsdoom.nds - Main program.
prboom.wad - Included in the binary download file, which contains data files used by DS DOOM to draw non-standard graphics.
doom.wad - Doom datafile. Make sure the Doom data file you use is renamed to doom.wad or it will not work.
prboom.cfg - prboom configuration file.
Select Standard Game from the initial menu to start a single player game.
User guide
Gameplay
At the end of the second millenium, the world was devastated by a nuclear explosion... On this planet ruled by fear, Kenshiro fights to find Yuria, his fiancee kidnapped by Shin.
The game action takes place on the touch screen, allowing you to look. On the other hand, on the top screen shows the mapping and the typical Doom bar where you view the states of your character.
It has a multiplayer option via wifi.
Additional
What is included
New levels
None (but offers a complete review of the episode 1 levels).
Sounds
Yes.
Music
Yes.
Graphics
Yes.
Dehacked/BEX Patch
No.
Demos
Yes (recorded to be compliant with both 1.666 and 1.9 versions).
Other
No.
Other files required
Doom1.wad to use this hokuto.wad as a PWAD.
Play information
Game
Doom
Single Player
Yes
Cooperative 2-4 Player
Yes
Deathmatch 2-4 Player
Yes
Other game styles
None
Difficulty Settings
Not implemented
Controls
Stylus - Look over
D-Pad - Movement
Y - Change weapon
X - Run
B - Use, Open
A - Attack
L/R - Bomb, Strafe
Start - Menu
Select - Choose option (in menu)
Screenshots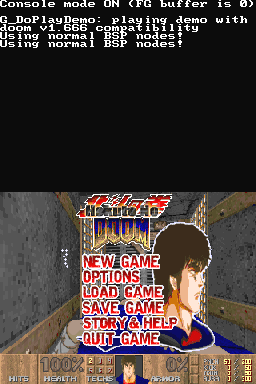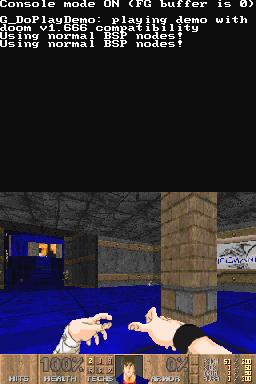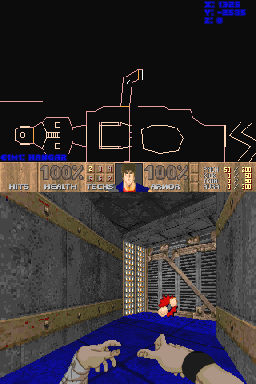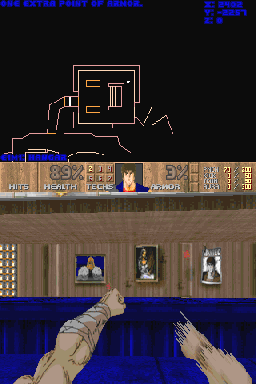 Media
Teaser (icemanpage)

Video of PC version (icemanpage)

Compatibility
Tested on:
iTouchDS (firmware 3.0)
Acekard 2i (firmware 4.17)

Known issues
As sprites are bigger in order to respect original comic/Tv animation, heads may be cut by the ceilings on OpenGL port:
POSS character size requires a minimum value of 88 from floor to ceiling.
SARG character size requires a minimum value of 104 from floor to ceiling.
It is advised not to play in Fast Monster mode as SARG caracter didn't have a speed matching with the original TV animation one.
External links